NAD D 3020 Hybrid Digital Integrated Amplifier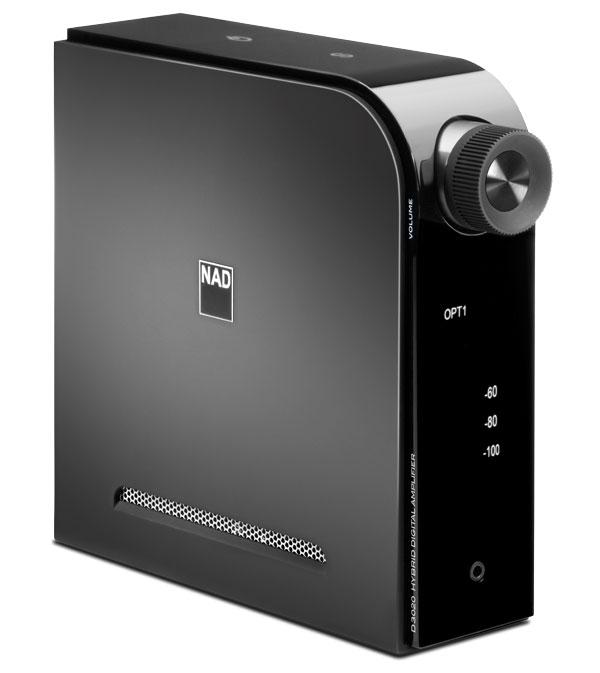 PRICE
$499
AT A GLANCE
Plus
Fine performance and sound
Elegant looks
Clear value
Minus
No mute control
Limited detail in volume readout
THE VERDICT
As an integrated amplifier/DAC combo for serious listeners, the D 3020's audio quality and value are unmistakable.
Audio types old enough to have viewed Chevy Chase's pratfalls live rather than on demand may remember an unprepossessing integrated amplifier from an unfamiliar brand. The NAD 3020, despite a power rating laughably modest even in 1978 (20 watts per channel) and next to no features, gained notice because, as the lore went, "it sounded great." And it did—thanks to intelligent amplifier design, a conservative power rating, and the value—widely underappreciated, then and now—of dynamic headroom.
However, I wander sadly. What this has to do with us here and now is that 35 years on, NAD has introduced another model 3020, this one with a D in front of it. Today's D 3020 has by some measures even fewer features (there's just one knob on the front panel, and no buttons at all). And at 30 watts per channel (rated), it has barely more power. But it has a number of advances among its updates, including onboard 96-kilohertz sampling/24-bit-capable digital-to-analog conversion via its asynchronous USB connection, and 192/24 performance from its other digital inputs thanks to a dual-differential DAC. Then there's the remote control—missing from the original 3020—and Bluetooth connectivity. While the Bluetooth link offers modern listeners the requisite convenience with portable sources, the wired inputs, including TosLink and digital coax connections, allow the little NAD to serve as a hub for a more serious computer or other source-based system, either for desktop use or a conventional listening room.
The Tour
In the flesh, the D 3020 has a look and feel you instantly want to own, with tactile rubberized surfaces and a distinctly Euro-rounded, honeyI-shrunk-the-projector shape I liked very much. The equally rubbery remote offers only a five-way cursor/transport-key set, plus discrete on and off, plus two arrow keys, so I get why all are only embossed with icons and not legibly printed: You already know their functions, or should. But would a few dabs of white ink have killed them?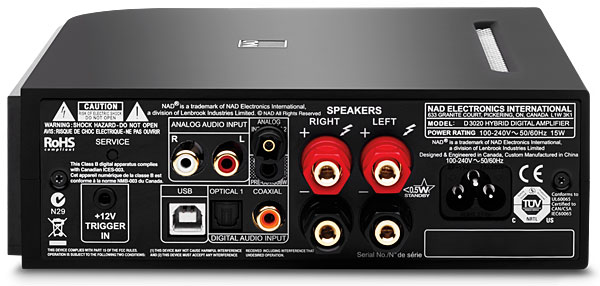 Setting up the D 3020 consists, in essence, of plugging it in. There's no software to load or run, and the amplifier's functions consist entirely of input selection and volume control, the one managed by two touch-buttons that illuminate on top (or left side, depending on orientation), and the single knob. There's also a Bass EQ feature, offering roughly 6 decibels sweetening over the bottom two octaves or so, induced by a tiny rear-panel push button. Most often, no doubt, the remote will do the honors. As noted, rear-panel inputs comprise one each TosLink optical and coaxial (RCA) digital and one-eighth-inch optical mini/analog combo jack, plus the asynchronous USB port, and an analog-stereo RCA input. There's also a subwoofer output, unusually, an eighth-inch minijack, which engages a 100-hertz low-pass filter when a plug is inserted. There is no high-pass option for the speaker outputs, which utilize solid, five-way binding posts.
Listening
Bluetooth is where I started my listening, via my iPhone 5. The D 3020 incorporates the aptX Bluetooth protocol, which should yield a superior sound. This is not yet incorporated into Apple's iOS, so what I heard was "regular" A2DP Bluetooth using the AAC codec for compression; it still sounded pretty good.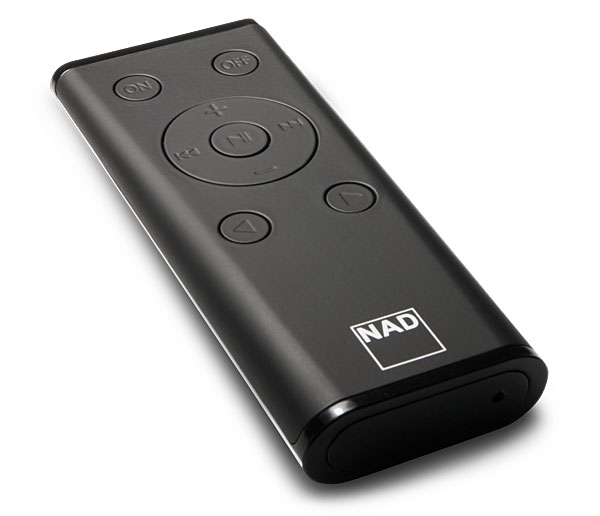 For serious listening, I moved on to the USB connection, from my iMac. The NAD accepts PCM up to 96/24; you cannot stream FLAC or other lossless formats (or DSD) to it directly but myriad free-ware and cheap-ware player applications for all kinds of operating systems exist. In a non-computer setup, numerous set-top boxes or streaming DVD players can do the honors, via DLNA, or in a few cases, directly via wired USB. I played my files using a little OSX app called Decibel.
As to how the little D 3020 sounds? In a time-honored word: Great! In a desktop configuration with small two-way monitors, the NAD delivered all the output anyone might wish, with never a hint of strain. A 96/24 FLAC of Keith Jarrett's classic Köln Concert delivered enormous air and crystalline solo piano tones—though the Chesky-recorded "'Tain't So," another piano-solo FLAC (176/24; Dick Hyman) sounded even better, with superbly natural ping to hammer strikes and richly three-dimensional air around accented treble notes.
To find out just how much fortitude the tiny amplifier actually had, I patched in my main speakers, a pair of classic Energy Veritas 2.2, an accurate and revealing stand-mount threeway of lower-than-usual sensitivity, and a modestly difficult load to drive. The result was impressive: The D 3020 produced plenty of clean level for satisfying listening in my 2,850 or so cubic feet. Obvious depth and air were certainly present, and broad, defined soundstaging (a Veritas hallmark) seemed consistently fine. A tightly miked studio track like Bonnie Raitt's "Right Down the Line" from her Slipstream album (from an 88.2/24 HDtracks FLAC file) yielded handsomely punchy and tonally distinguished bottom end and honest, control-room-grade transients, while Raitt's unmistakable contralto floated solidly in space.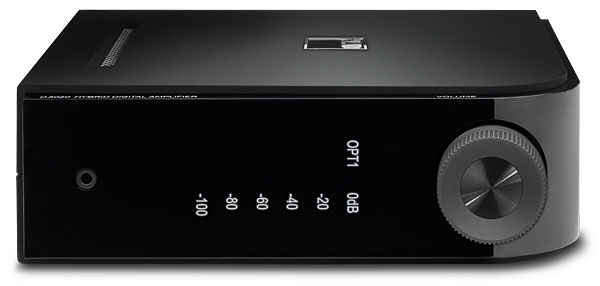 Pushed harder, the little NAD could of course be made to clip audibly (at least into the nominally 4-ohm Energys). With full-scale-output digital pop/rock files, I needed to allow about 6 dB headroom from its volume maximum.
If I thought otherwise linear electronic components had "a sound" (which I don't), I would characterize the D 3020's as rather warmer than otherwise. But this is mostly just an endorsement of its proficiency in avoiding non-linear instants while amplifying widely dynamic music—in short, the virtues of NAD's long-held commitment to soft clipping and dynamic headroom in its designs.
Ergonomics, or Not
As to the D 3020's ergonomics—well, there aren't a lot, really. The little all-black remote works just fine. It turns out your thumb really does already know what button to reach for. There's no direct-access input selection—you can cycle through the inputs using the remote's left and right arrow keys. The front-panel volume display only runs by visually crude 10-dB segments, though the uppermost dims as you lower toward the next, which helps. However, there is no mute control at all, which I deem a significant lack.
But these hardly factor, in light of the D 3020's obviously superb sonics with high-resolution material. Its elegant looks, especially when vertical (the NAD can lie either way) and impressively high-quality feel don't hurt, either.