Muppets Most Wanted
In this latest outing, slick-talking criminal Dominic Badguy (Ricky Gervais) cons his way into the job of the gang's new manager. He replaces lovable front-frog Kermit with an evil doppelgänger named Constantine, and the two ne'er-do-wells team up to use the Muppets' comeback world tour as a ruse to pull off a jewelry heist while poor Kermit is locked up in a Russian gulag. Not even the perpetually smitten Miss Piggy realizes a switch has been made.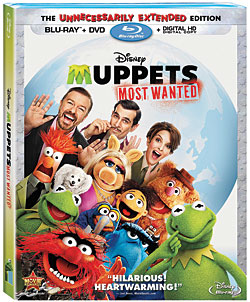 Muppets Most Wanted is missing some of the lighthearted charm that made the 2011 reboot such wonderful family fare, that feel-good spirit replaced with some darkly hued humor. There's still much to love here, however, like the glitzy musical numbers, the fun of catching celebrity cameos, and in particular Ty Burrell (channeling Steve Martin's interpretation of Inspector Clouseau) as an uptight French INTERPOL agent.
Disney grants Muppets Most Wanted an exquisite Blu-ray release. The film was shot on digital HD video using the Red Epic camera and is presented here at 1080p in an AVC encode. The Muppets look enticingly candy-colored and display an exceptional amount of texture, their fuzzy faces picked up with great clarity. The brighter scenes, like the dazzling opening extravaganza, pop off the screen with their vividness.
The reference-quality DTS-HD Master Audio 7.1 soundtrack doesn't overwhelm with discrete effects or ear-pounding volume, but it does provide a beautiful amount of balance and an engulfing soundscape. The show tunes fill the channels with instrumentation and reverberation and have a deep, tightly tuned low end.
The movie is presented in both Theatrical and Extended Cuts, plus the just-under-two-minute-long Statler & Waldorf Cut. The extras include a funny blooper reel, a skit with Rizzo sending himself fan mail, and a music video by Oscar-winning songwriter Bret McKenzie.
Blu-Ray
Studio: Disney, 2014
Aspect Ratio: 1.78:1
Audio Format: DTS-HD Master Audio 7.1
Length: 107 mins. / 124 mins.
MPAA Rating: PG
Director: James Bobin
Starring: Ricky Gervais, Ty Burrell, Tina Fey
Helmed again by James Bobin, Muppets Most Wanted lets us know from the beginning that it won't be quite as good as the last Muppets film. Of course, they do it Muppet-style, with a big musical number announcing, "We're doing a sequel—and everybody knows that the sequel's never quite as good." Sure, Muppets Most Wanted is their eighth theatrical film, but who's counting?