Mulholland Drive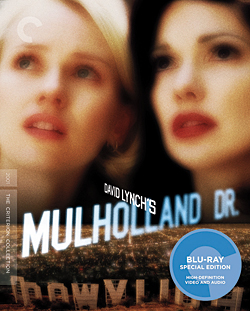 Lynch is making a statement on the dream world—the lush and the ghoulish—of Hollywood itself, but what he's doing above all (as he does in many of his films) is weaving an eerie atmosphere, in which (this may be its ultimate horror) fantasy and reality, the feigned and the authentic, the unconscious and the willed, intersect and congeal, whether we will it or not, into the experience of a certain sort of life. And, as he's done with his other best works (Blue Velvet, Elephant Man, the first half of Twin Peaks, and, in a completely different vein, The Straight Story), he immerses you in a world, a parallel universe of sorts, from which you never fully wake up.
Cinematographer Peter Deming, who also worked with Lynch on Twin Peaks and Lost Highway, lights up this bizarre landscape with evocative depths, colors, and shadows, which Criterion's 1080p transfer captures in brilliant fidelity. The ghostly score by Angelo Badalamenti (another longtime Lynch mate) adds shivers to the setting. The special features are fascinating: a mix of interviews with several of the cast and crew (most entertainingly, Badalamenti) and some footage from the set, which reveals much about Lynch's methods and a startling display of Watts' intensity as an actor.
Blu-Ray
Studio: Criterion Collection, 2001
Aspect Ratio: 1.85:1
Audio Format: DTS-HD Master Audio 5.1
Length: 146 mins.
MPAA Rating: R
Director: David Lynch
Starring: Naomi Watts, Laura Harring, Justin Theroux
Mulholland Drive is a wild and woolly movie, rife with swooning mysteries, esoteric clues, red herrings, black swans, and, even if the whole mélange remains a puzzle to you, it tosses up some of the most haunting and sensual images and sounds ever to come out of Hollywood. It begins with heavy breathing and soft focus on a red sheet, your first signal that what you're about to see is someone's dream, though how much, and at what point things flit back and forth from nightmare to reality (or, simply, to random jetsam from writer-director David Lynch's own weird dreams and fantasies) is up for grabs. The story (I'm tempted to put that word in quotation marks) is about a rosy-eyed blonde (wonderfully played by Naomi Watts) who arrives in Hollywood full of hopes and some talent, checks into her aunt's apartment, and stumbles into a vivacious brunette (Laura Harring) who's hiding out there after suffering an amnesia-inducing car accident, whereupon the two play detective to discover her identity and embark on a hot lesbian love affair. All of this is intercut with the dreams, nightmares, traps, and betrayals of other characters (real, imagined, or some fusion of both), culminating in…well, let's not give away any surprise twists.