Mr. Holmes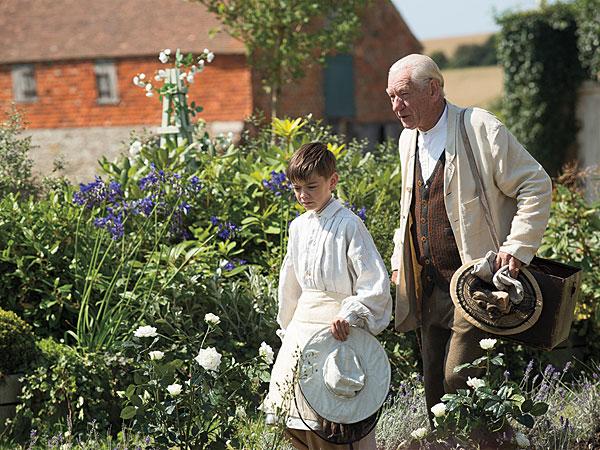 In this acting-focused film, images are often gently, evenly, and flatly under-lit, shot in shallow focus to direct attention and intensify emotion with only occasional dimensional deep-focus shots. Nonetheless, there's plentiful detail throughout the sharp picture, revealing every line and wrinkle in McKellen's face. Woolens' weaves are visible, as are texture in other textiles with distinct patterns in ties and lacework. Contrast is variable: Blacks are black most of the time, just as whites are often though not always white. However, saturated yet muted countryside greens, browns, and grays are solid and supplemented by autumnal-colored clothes and décor of peach, mauve.
All channels are used for atmospherics, mostly country-garden birds and bees and wind in the willows plus a few accurately panned effects such as trains and cars coming diagonally off the screen toward and past you. Dialogue, even in Holmes' raspy, hoarse voice, is clear throughout this otherwise still film. The mix of the intermittent, bassy, minimal score (often leading off a flashback) uses the surrounds to start off pieces of flute music or electronica or glass harmonica that are soon picked up by the front channels in strings, initially restrained but building to rousingly fill the room for the final non-elementary resolution.
Extras consist of two intriguing, two-minute promo spots that leave you hungry for more deductive analysis.
Blu-Ray
Studio: Lionsgate, 2015
Aspect Ratio: 2.39:1
Audio: DTS-HD Master Audio 5.1
Length: 103 mins.
MPAA Rating: R
Director: Bill Condon
Starring: Ian McKellen, Laura Linney, Hattie Morahan
"Human nature was a mystery that logic alone could not illuminate." In this tale of memory, fiction, and flashbacked facts, Sir Ian McKellen completely transforms into an aging Sherlock Holmes, a real-life person who's been misrepresented in Dr. Watson's books and turned into a romanticized creation. Living in retirement for 33 years following a failure that still haunts him, Holmes, who is rapidly losing his memory, is trying to recall the details of the case that derailed him in the hope of writing an account to correct the "myriad misconceptions created by the imaginative license" Watson had embellished his recounting of the investigations with. Holmes—egged on by his housekeeper's precociously smart son who urges the great detective to complete writing the book so that they can both find out what happens next—must now recall or deductively re-create the case to understand the limitations of his own nature in relation to others.