Movie to Debut on Sony Net Platform
The latest Will Smith movie
Hancock
will make its video debut on Sony's Bravia Internet Video Link before it reaches Sony's Blu-ray disc format (or DVD for that matter). The release-window experiment will run from October 28 to November 10.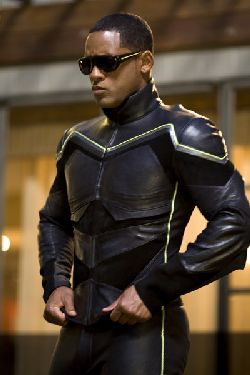 In a determined attempt to get Blu-ray enthusiasts to take the experiment seriously, Sony is making an offer many will find hard to refuse. Rent the movie online for $9.99, then register online, and Sony will mail you a free Blu-ray copy. Wow!
The streaming rental will be available at three levels of bandwidth, including one 720p feed and two 480p feeds with different encoding. The Bravia Internet Video Link will automatically detect bandwidth and play what it thinks is best for you.
The Bravia Internet Video Link module (Sony really needs to come up with a shorter name) is a $300 add-on that attaches to the back of a Bravia TV. It delivers an increasingly impressive array of streaming movie, TV, and net-originated content.
See press release.
LATEST VIDEO
WHERE TECHNOLOGY BECOMES ENTERTAINMENT