Moonlight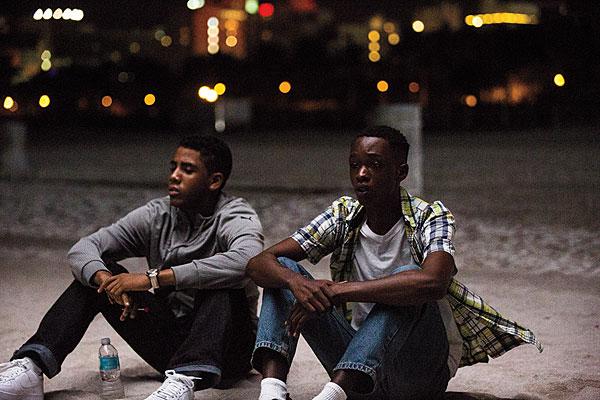 Barry Jenkins directs from his adapted screenplay (for which he won the Oscar for Best Adapted Screenplay) of the short play In Moonlight Black Boys Look Blue by Tarell Alvin McCraney. The film traces the early life of a black youngster named Chiron (played in the three stages of his life by Alex Hibbert, Ashton Sanders, and Trevante Rhodes) who grows up in a poor neighborhood in Miami. Chiron's mother is a crack addict whose addiction leaves her incap- able of providing the maternal love he needs as he's confronted by bullying from neighborhood hooligans over his sexuality. Kind- hearted Cuban drug dealer (Mahershala Ali) and his girl- friend (Janelle Monáe) take Chiron in, becoming a sort of surrogate family for him. In the second part, Chiron, now a lanky teen, develops a crush on his best friend, but the targeting of him worsens and leads to a violent altercation. He is arrested and eventually taken to Atlanta by his mother. In the final part, Chiron is in his twenties and involved in drug dealing. He must confront his past and the sexuality he's tried to suppress for the past decade.
Moonlight poignantly grapples with the issues of school bullying and sexuality; it subconsciously forces us to confront the segregated nature of American society. Chiron is a character who's never seen a white person and, when we first meet him, doesn't know how to swim even though he lives in Miami. It's a remarkable commentary on privilege and lack thereof in America.
In its desaturated, blue-tinted color palette, Moonlight visually alludes to the downtrodden and hopeless, the "blue" depression of mind and surroundings. It's not perfect, but it's a satisfying and elegiac film that's thought provoking on multiple levels.
Moonlight was shot in 2K on the Arri Alexa XT Plus, and a 2K DI (digital intermediate) was used in the color processing stage. The Blu-ray arrives with an AVC 1080p transfer framed at 2.39:1 free from any problematic deficits such as compression noise or edge enhancement, but the desaturated, blue-tinged picture does not leap from the screen and will not be a top demonstration choice. A thin layer of perhaps arti- ficially applied grain adds a filmic quality, and the shadow detail and overall crispness is unimpeachable.
Moonlight is a quiet film driven by dialogue and the emotive score by Nicholas Britell. The conservative DTS-HD Master Audio 5.1 mix is appropriate for the film. It doesn't place many sounds around the room, and it's front-heavy, but there's enough breathing room for the score, good natural ambience, and clear dialogue.
Lionsgate doesn't provide a wind- fall of extras on this release, but they do offer a strong selection, including a director's audio commentary and an informative 20-minute making-of, "Ensemble of Emotion." There's also a piece on filming in Miami, an HD UltraViolet Digital Copy, and more.
Blu-ray
Studio: Lionsgate, 2016
Aspect Ratio: 2.39:1
Audio Format: DTS-HD Master Audio 5.1
Length: 111 mins.
MPAA Rating: R
Dorector: Barry Jenkins
Starring: Mahershala Ali, Shariff Earp, Duan Sanderson
This coming-of-age drama is notable for a lot more than the Oscar night flub seen around the world that ultimately had the film walking away with the Best Picture statuette. It's a beautifully captured movie set in three distinct acts and, notably, one of the few dramas about the black American experience to be recognized that is not overtly concerned with slavery, the civil rights struggle, or institutionalized violence against said community, although one could make an argument about the undercurrent of those issues running through the story.