Monsters, Inc.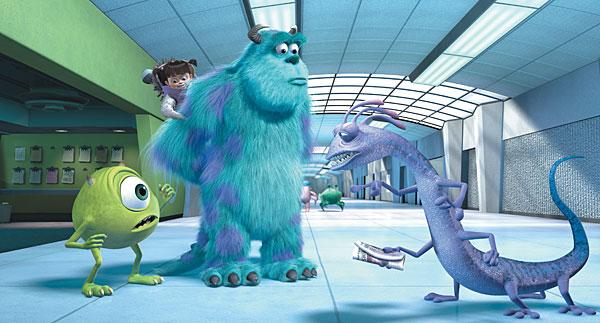 But the monsters are also terrified of the children, convinced that they're toxic and deadly if touched. Things go terribly wrong when a toddler follows Sulley back through the door and into Monstropolis.
Sound like a horror movie? Au contraire. Monsters, Inc. is exciting, hilarious, and surprisingly touching. Sulley names the little girl Boo and grows increasingly attached to her. But Mike (brilliantly voiced by Billy Crystal) is totally frustrated by the situation. He only wants to get Boo back through the door before their bumbling is discovered.
This 2001 Pixar production may not be as richly detailed as, for example, the company's recent Brave, but if someone told you this was a new release, you'd believe them. The HD video transfers here are superb and left me with nothing to complain about. The audio is even better. Clean and crisp but never over-bright or overbearing, it's a perfect fit—from Randy Newman's beautifully recorded, jazz-inflected score to the film's rousing sound effects. There's even steered dialogue, which may occasionally sound a bit weird if your speakers are too far to the left and right of the screen!
Monsters, Inc. began life as a 2D animated feature but was converted to 3D for a theatrical run beginning in December 2012. Pixar's wizards turned the movie into a first-rate 3D production, and it's that 3D version that's the inspiration for this new box set. There isn't much in the way of jump-out 3D effects, but for some that's a plus, not a minus. Wherever you look, the depth is as convincing as in any 3D movie I've seen—original 3D or converted. There's no faking it or shortcuts taken here. It's a stunner.
The extras on the 2D Blu-ray Disc include a "Filmmaker's Round Table," an audio commentary track, and the animated shorts Mike's New Car, Partysaurus Rex, and For the Birds. The latter two also appear on the 3D disc in full 3D, along with fully animated 3D "outtakes" and the Monsters, Inc. company play. There's also another HD disc devoted to additional bonus material, including a (rather basic) game, art stills, and extensive (though largely SD) making-of featurettes.
Blu-Ray 3D
Studio: Disney, 2001
Aspect Ratio: 1.85:1
Audio Format: Dolby TrueHD 7.1
Length: 92 mins.
MPAA Rating: G
Director: Pete Docter
Starring: John Goodman, Billy Crystal, Mary Gibbs
James P. "Sulley" Sullivan is the pride of Monsters, Inc., the power company for Monstropolis. As Sulley and the other Monster scarers pass through doors leading into children's bedrooms, the energy generated by kids' screams is captured and stored. Sulley is the champion scarer, and Mike Wazowski is his coach, right-hand monster, and best pal.