Monkey Kingdom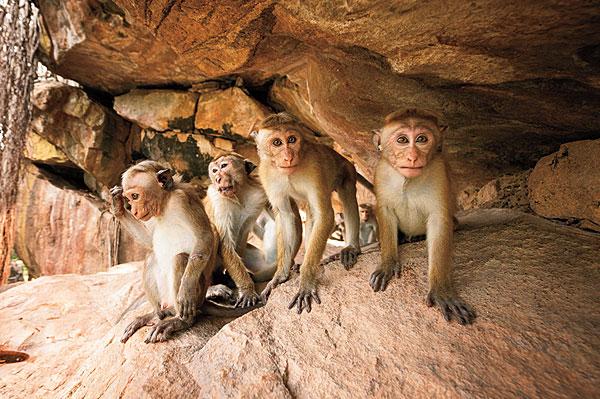 The film is very family-friendly in that familiar Disney way, glossing over some of the more intense incidents. The anthropomorphizing of these cute creatures is an effective tool for the storytelling, and the lighthearted, comically tinged narration by Tina Fey helps it all go over easily. For adults and kids alike, the beautiful camera work offers more than enough eye candy to keep us glued to the screen. The beautiful jungle backdrops and taut editing will place you right in the middle of this heartwarming and quick-paced adventure.
Monkey Kingdom on Blu-ray boasts an AVC 1080p transfer that is absolutely magnificent. This is the kind of clarity we want to see in a nature documentary. An obvious digital production, there are nonetheless no signs of video noise, color banding, aliasing, or motion artifacts, and the color reproduction is wonderfully natural. Details are crisp: We can see every strand of fur on the monkeys, every crinkle on their faces, and every leaf in the forest.
Disney includes a DTS-HD Master Audio 5.1 soundtrack that has a big, ambient sound that reminded me of the kind of mixes you usually hear on IMAX exhibition films when they arrive on Blu-ray. The atmospherics in the surround channels are plainly audible and reverberant, Fey's voiceover in the center channel is upfront and full, and stereo panning across the front is wide. Low end is deep but never boomy. At all times, the mix sounds well balanced and punchy.
Monkey Kingdom comes with a fine complement of extras. The highlights include the featurette "Tales from the Kingdom," which provides a behind-the-scenes look at the ten camera crews working over three years and "On the Set of Monkey Kingdom," which brings in the always-good-to-see primate experts Jane Goodall and Wolfgang Dittus. There's also a music video by Disney artist Jacqui Lee and a message on conservation. Finally, Disney includes a DVD of the feature and a Disney Movies Anywhere Digital Copy.
Blu-Ray
Sudio: Disney, 2015
Aspect Ratio: 1.85:1
Audio Format: DTS-HD Master Audio 5.1
Length: 81 mins.
MPAA Rating: G
Directors: Mark Linfield, Alastair Fothergill
Starring: Tina Fey
Directors Mark Linfield and Alastair Fothergill (Earth) return to Disneynature with the beautifully filmed documentary Monkey Kingdom, which follows a troop of macaques living in the ruins of a Sri Lankan temple. The story hones in on a female named Maya and her newborn son Kip. The lowborn Maya must work her way through the complex hierarchy of the macaques in her struggle to survive and feed her son.