Modulus Previews 'All-in-One' Media Hub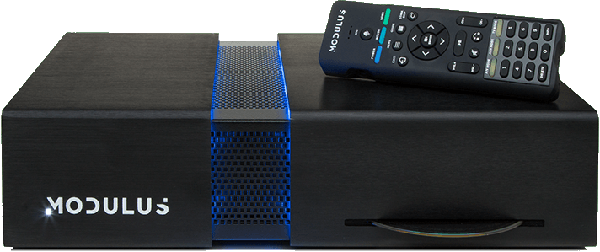 Austin, TX-based Modulus Media Systems today announced that it will unveil an all-in-one media center at CEDIA 2017, which opens in San Diego September 5.
The M1 Home Theater Integration System, which has been in development for a year, is described as a "stylish unit that consolidates the best features of a DVR, function-rich media center software, multiple streaming boxes, Blu-ray/DVD disc players, and personal media organizers for the whole family."
The system supports 4K/Ultra HD resolution and is equipped with 12 terabytes (TB) of storage for music, photos, and movies. Highlights include compatibility with a variety of home-automation platforms, the ability to record programs streamed from the internet, fast global search, commercial skip with "any recorded program," multiroom capability via "Modulus Mini" units, and a remote control with voice search, "air mouse" capability, and a backlit QWERTY keyboard. The company said the Mini units will also be able to expand the main hub's reach to remote locations.
"After a year of testing, adding new features, and meeting with top system integrators across the country for their input, the new M1 Home Theater Integration System is ready for market," the company said in a press release, noting that more than 250 home theater integrators have signed up to participate in product's upcoming rollout.
For more information, visit modulusmediasystems.com.
WHERE TECHNOLOGY BECOMES ENTERTAINMENT