Modern Family: The Complete Second Season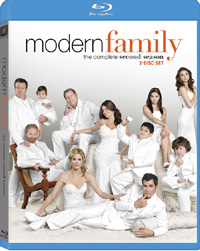 The Pritchett clan has Jay (Ed O'Neill) as the patriarch who's married to his much younger Columbian wife Gloria (Sofia Vergara). Along for the ride is her old soul 11-year-old son, Manny (Rico Rodriguez), who is wise beyond his years but doesn't exactly mesh with his stepfather. Jay has two grown children from his first marriage, Claire (Julie Bowen) and Mitchell (Jesse Tyler Ferguson), who have families of their own. Each family has their unique traits and when they all get together they form a very interesting and hilarious modern family.
I generally don't watch much TV, but Modern Family is a show that hooked me last year on Blu-ray and I couldn't wait to revisit the show on Blu-ray. This is by far the funniest show I've seen in years and the interactions between the characters are priceless. Whether it's Gloria's accent, Manny's phobias, or Jay's frustration with modern society, I'm laughing my rear-end off every episode. In fact, my wife and I laugh so much our kids have requested we don't watch the show if they are trying to sleep because we keep waking them up with our laughter!
Just like the show itself, the AVC encode is a crowd pleaser and doesn't take anything away from the enjoyment of the series. Colors are bold and fresh, contrast is consistent, and the black levels are solid although rarely called upon. As one would expect, the DTS-HD MA 5.1 soundtrack is pedestrian in its sound design, but the dialog is always intelligible and when the soundtrack kicks-in there's plenty of body in the midrange and even a decent amount of bass.
The three disc set includes all 24 episodes of the Emmy winning series plus deleted family interviews, extended and deleted scenes, a gag reel, a music video, and a couple of featurettes.
While I'm primarily a movie lover, I like to have some short programs to watch when I'm not in the mood to watch a feature-length film and Modern Family is my go to show if I'm looking for a good laugh. The writing is top-notch and I love all of the characters. Highly recommened.
Ratings
Picture:4.5/5
3D-Ness: N/A
Sound: 4/5
Extras: 4/5
Interactivity: N/A

Disc Specs
Studio: Fox (2011)
Aspect Ratio: 1.78:1
Audio Format: DTS-HD Master Audio 5.1
Length: 528 Min
MPAA Rating: N/A
Director: Various
Starring: Ed O'Neill, Julie Bowen, Ty Burrell, Sofia Vergara

LATEST VIDEO