Mitsubishi HDTVs Get 3D Support
Mitsubishi's 2010 HDTV line is getting a software upgrade that will enable sets to process 3D formats supported by HDMI 1.4a. The upgrade will apply to "select 2010 Mitsubishi 3D-ready TVs" including 738 and 838 Series sets, enabling them to connect to 3D-capable Blu-ray players and satellite or cable set-top boxes without an adapter.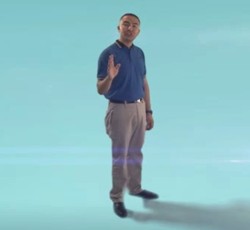 Here's the fine print: "Mitsubishi 738 series and 838 series 3D televisions (the 'TVs') will no longer require the use of an adapter when loaded with the software version of 012.06 (the 'Software Update'). After the Software Update, the TVs will support the mandatory HDMI 1.4a 3D signals intended for the United States. Specifically, the TVs will support the 3D signals known as Frame Packing 1080p/24Hz and 720p/60Hz (primarily from Blu-ray players and gaming consoles), Side-by-Side in 1080i/60Hz, 1080p/24Hz/30Hz/60Hz and 720p/60Hz, Top/Bottom in 1080p/24Hz and 720p/60Hz, and Checkerboard 1080p/60Hz. However, there may be some 3D sources that are not compatible with the TVs even after the Software Update. In all cases: (1) 3D sources must connect to the TVs using the HDMI inputs; and (2) Active Shutter 3D glasses with matching synchronization emitter or DLP Link Active Shutter 3D glasses are required in order to view 3D content."
Mitsubishi would also like to remind you that "size and speed are crucial to enjoying the most realistic, immersive 3D TV viewing experience," and that its DLP rear-projection sets come in sizes from 60 to 82 inches, which is definitely a lot of size.
See press release and instructions, both in print and video (from Victor the Update Dude, pictured) on the Mitsubishi site.
LATEST VIDEO