Mitsubishi HC4000 DLP Projector HT Labs Measures
HT Labs Measures
Contrast & Resolution
Peak white level: 16.4fL
Black level: 0.017fL
Peak contrast ratio: 965:1
When setting the Brightness control, I noticed that the projector did not display below-black in the default setting of the Input Level control, though it did display above-white. Setting this control to Enhanced displayed below-black, but then the Brightness control didn't go low enough—the minimum setting was still too high. So I set the Input Level to Normal and set the Brightness so I could just barely see a video level of 17.
At the maximum Contrast setting that still did not clip above-white, the peak-white level was well over 16 foot-lamberts, even in Low lamp mode, so I reduced the Contrast control accordingly. The black level was better than other low-cost projectors I've reviews so far, but not enough to yield a contrast ratio over 1000:1.
Grayscale & Color Accuracy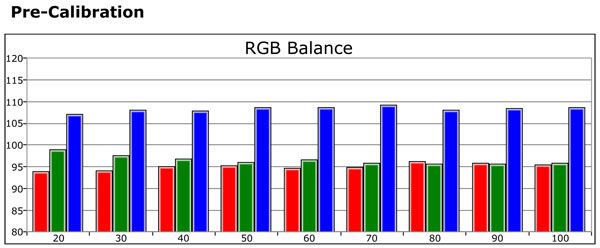 The Warm color-temperature preset was too red—which is highly unusual—so I used the Medium preset (shown here) as a starting point. That preset was too blue overall, but closer to correct than Warm with an average gamma of 2.1.
The grayscale calibrated beautifully, with delta E (a measurement of the error in color balance at each brightness level) less than 1 across the board. (A value of 3 or less is generally considered to be indistinguishable to the naked eye.) Average gamma was still 2.1.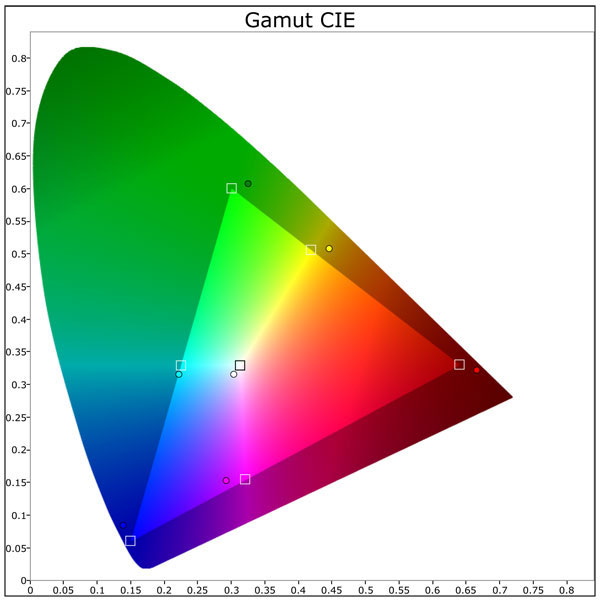 Before calibration, none of the color points were at their industry-specified locations.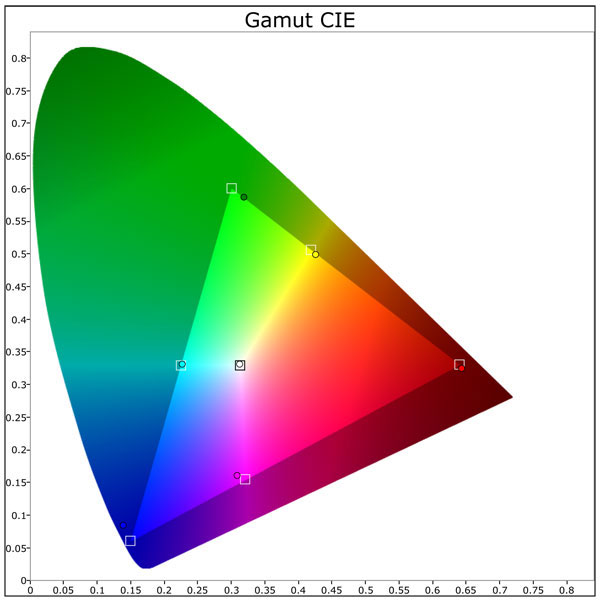 The color-management system (CMS) worked quite well to improve the color accuracy. It would not let me completely correct blue, green, yellow, and magenta, but they were much closer to where they should be after I tweaked them with the CMS. Even better, real-world images looked better with the CMS than without it.
Video Test Bench

| | | | | | | | | | |
| --- | --- | --- | --- | --- | --- | --- | --- | --- | --- |
| 3:2 HD | 2:2 HD | MA HD | 3:2 SD | 2:2 SD | MA SD | VIDEO CLIPPING | LUMA RESOLUTION | CHROMA RESOLUTION | SCALING |
| PASS | FAIL | PASS | PASS | FAIL | PASS | PASS | PASS | PASS | GOOD |
3:2 = film-originated content sent interlaced to display (broadcast movies and many TV shows)
2:2 = progressive video-originated content sent interlaced to display (not common)
MA = Motion Adaptive (interlaced video-originated content sent interlaced to display; becoming common for 1080i TV shows)
I gave Video Clipping a pass here, even though the projector clips below-black when the Input Level is set to Normal or Auto. It passes below-black when the Input Level is set to Enhanced, but in that case, the Brightness control cannot be set low enough. In all three settings, the projector passes above-white.