Mission: Impossible—Ghost Protocol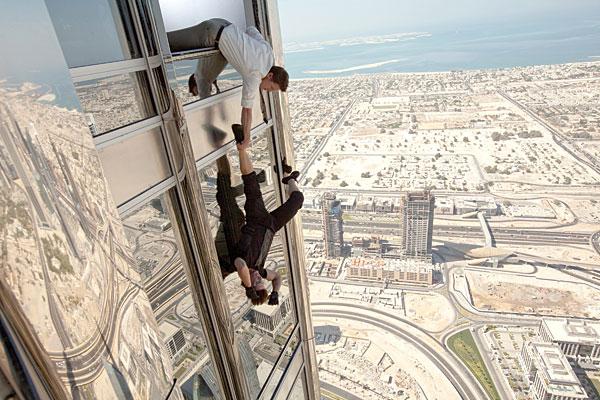 America—and the rest of the planet, actually—needs him now more than ever. A Russian nuclear launch device is in the wrong hands, those of a maniacal figure who believes the end of the world will be a new beginning, and so he wants to speed up the process by triggering World War III. And when a horrific bombing in Moscow is wrongly blamed on the United States, Hunt is cut off by the government and branded a terrorist, leaving only him and his ragtag team to find and neutralize the threat before time runs out.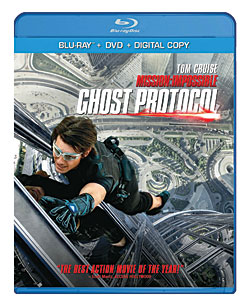 With stakes this high, they will do whatever it takes, risking life and limb by sneaking into the 130th floor of the Burj Khalifa tower in Dubai from the outside, driving blind into a raging sandstorm, and doing things in an automated parking garage that no sane person would ever attempt. In the plus column, they do have access to a cache of mind-boggling new gadgetry (much of it conspicuously Apple-powered), which helps to render the impossible possible. But it certainly doesn't make their job easy. The mission comes together in a breathless, jaw-dropping, talk-at-the- TV-crazy whirlwind of stunts, chases, setbacks, and surprises as the gang improvises its way around the globe and to the brink of total disaster.
We reviewed the three-disc edition of Ghost Protocol, exclusive to Best Buy, with no bonus content alongside the movie on Disc One. Tom isn't partial to audio commentaries anyway, but this choice also allows a higher audio/video bitrate for optimal quality. Wide shots and close-ups flaunt exceptional detail, and the roughly half-hour of key scenes shot in large-format IMAX look absolutely amazing in this 2.40:1 home theater presentation. The special effects—supervised by the co-inventor of Photoshop, John Knoll—are eye-popping yet quite realistic.
The Dolby TrueHD 7.1-channel soundtrack is every bit as remark- able, with all four surround speakers vigorously exploited for the wind and voices and more, while fast-moving cars zip across the soundstage and music is mixed all around to make the adventure even more exciting. Bass, too, is wonderfully potent and sharp, and dialogue is dependably clear from start to finish.
Disc Two is all about the extras, with a collection of many enjoyable topic-specific featurettes (props, effects, locations, etc.) in addition to a broader three-part making-of that follows the production across the map. On this platter we will also find several deleted scenes, in high definition and Dolby Digital 5.1, with optional, genuinely illuminating commentary by director Brad Bird. (The two-disc BD/DVD set contains a portion of these supplements.)
Disc Three is a DVD of the movie, and this package also includes an iTunes Digital Copy download plus UltraViolet, waiting to be unlocked in the cloud. No one knows for sure when those DRM-encrypted files will self-destruct.
Blu-Ray
Studio: Paramount, 2011
Aspect Ratio: 2.40:1
Audio Format: Dolby TrueHD 7.1
Length: 133 mins.
MPAA Rating: PG-13
Director: Brad Bird
Starring: Tom Cruise, Paula Patton, Simon Pegg
Tom Cruise returns as IMF agent Ethan Hunt for this fourth film in his big-screen Mission: Impossible franchise, and this might just be the best one yet. Hunt is the sort of fellow I secretly hope we have on the federal payroll: fearless, cool under pressure, and a quick study in almost everything. He's a good man to have on our side when the going gets rough because he simply will not quit as long as he has a pulse.
LATEST VIDEO