A Million Miles Away: Billy Altman's SXSW 2012 Diary Wrap-up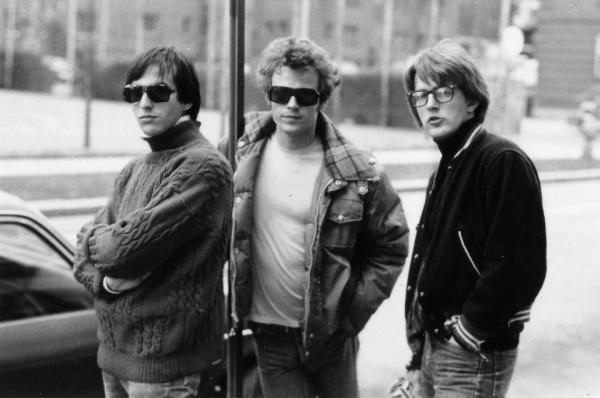 Combine a spring break weekend, a St. Patrick's Day celebration, and the final day of a South by Southwest music festival and you can imagine the insanity reigning supreme all over downtown Austin on Saturday. For this weary listener, operating on an average of four-plus hours of sleep each night, that meant seeking a little shelter from the storm, so to speak, so I made sure my day started at the Broken Spoke dancehall saloon on South Lamar Ave., where local mainstay singer/ guitarist Cornell Hurd was presiding over his annual jamboree hoedown, which serves as a friendly reminder that this is still Texas and that you should smile when you say "country music."
Of course, soon as Larry Lange and His Lonely Knights commenced to playing their horn-accented "Highway 90 sound" and the big hats and even bigger bouffants took to the dancefloor to the tune of "Running Bear" man Johnny Preston's "Feel So Fine," that seemed elementary (my dear Stetson).
From there, it was over to Maria's Taco Express, where a more current Austin mainstay, singer/ songwriter Alejandro Escovedo (fresh off his walk-on with Bruce Springsteen a few nights before) was hosting his own free all-day affair with sets by such alternative A-listers as the reunited alt-rockers the dBs, the still wild-in-the-streets Garland Jeffreys, and eternally all-star guitarist (and all-star scribe) Lenny Kaye.
By nightfall, all roads inevitably led back to East Sixth Street, where over the course of the evening's endless club crawling I witnessed the following highlights: '60s garage rockers the Standells at Buffalo Billiards snarling their way through their banned-in-Boston classic "Dirty Water" and their banned-everywhere illegal substance-promoting ditty "Try It"; tunesmith Shannon McNally at the 18th floor at the Hilton Garden Inn offering an impressively diverse mix of country and blues which had me thinking that if Lucinda Williams was still writing good songs, they'd sound like this; and industrial metalheads the Hectic, whose show outside on crazed Red River featured plenty of corpse-paint makeup to go with the unruly noise, as well as a masked associate in a black hood with one green laser eye wielding a fog-firing machine gun. Nice touch.
My SXSW 2012 ended watching reunited Nerves bandmates Peter Case and Paul Collins tearing it up at the Easy Tiger Patio – a small hard-to-find venue that you reach by having to cross a little bridge over the downtown creek running near the I-35. The setting seemed appropriate: way back in the upset-the-applecart New Wave days of the mid-to-late '70s, Case, Collins and colleague Jack Lee's ambitious trio churned out a series of wondrous indie singles that combined punk and pop in ways that pointed towards a kind of musical utopia for rock and roll true believers. Case's "When You Find Out"; Collins' "Walking Out on Love"; and Lee's "Hanging on the Telephone," which became a classic of sorts when covered by then emerging stars Blondie.
The Nerves never quite made it, but you'd never know it from the small but ecstatic crowd that was singing along with every last song evergreen Case and Collins rolled out. Playing their fourth show of the day (they'd been all over town for assorted unofficial SXSW parties), they were still smoking – especially Case, who came closest to stardom with the '80s band the Plimsouls ("A Million Miles Away"), and who has journeyed through his own unique musical arc over the last three decades as a mainly folk and blues-leaning solo performer. Not at this moment, though: just beginning a full-fledged tour with Collins sprinkled with material from both of their winding careers, Case is simply on fire, singing and playing like a man possessed. Possessed with a spirit, and a passion that, at its best moments, South by Southwest is still all about: the power of music not only to move us, but to move us to a better place. These days, we sure need it, don't we?
Previously in the SXSW 2012 Diary:
Day One: Keeping Austin Weird With Joe "King" Carrasco
Day Two: Alabama Shakes, Black Flamingo, Gemma Ray
Day Three: The Boss Speaks: Bruce's Keynote Address
Day Four: Fun.