Before Midnight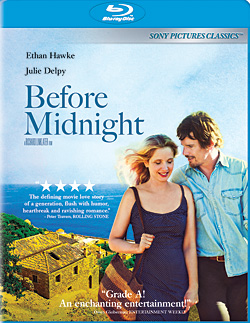 It's a moving, funny, gripping movie, a wise portrait not of fresh romance, teeming with projection and possibilities, but of a deeply dug-in marriage, ripe with familiarity, banter, and love but also with drudgeries and creeping resentments. Mature (which is to say complex adult life) love has rarely been treated so fully in the movies. The script, like those for the first two films, was co-written by the director, Richard Linklater, and the two stars, Ethan Hawke and Julie Delpy, who act their parts with thorough naturalness, often in takes that last 10 minutes or more—Jesse smart, witty, but also a bit slick and (more than we've known before) manipulative, Céline even smarter in a way, extremely appealing, though confused and occasionally haranguing. In the big fight scene at the end, they're both guilty and innocent of the sins with which they're charged (which is usually the case in life), and the resolution is mutually hard-won yet far from final (which, again, is how these things often go).
The 1080p transfer is very fine, if not an eye-grabber; it's a bit soft-focused, but that's how it's meant to be. Linklater captures the mythic landscape all around, but he doesn't mean to fetishize its beauty (as some rom-coms set in exotic lands do, to distract from their hollow cores); it's but the backdrop to his characters' timeless chronicle. The surround sound is spacious and clear. The commentary track with the three writers is funny and illuminating.
Blu-Ray
Studio: Sony Pictures Classics, 2013
Aspect Ratio: 1.85:1
Audio Format: DTS-HD Master Audio 5.1
Length: 109 mins.
MPAA Rating: R
Director: Richard Linklater
Starring: Ethan Hawke, Julie Delpy, Seamus Davey-Fitzpatrick
Before Midnight is the unplanned Part 3 of what may turn out to be a lifetime series—one episode every nine years, so far—following the romance of Jesse and Céline. Before Sunrise (1995) had them, at 23, meeting on a train in Europe, getting off together in Vienna, walking and talking all day and night, and making love at dawn. Before Sunset (2004) found Jesse, author of a best-selling novel about that brief affair, running into Céline at a reading in Paris, resuming their walking and talking through the winding streets, and ending in her apartment on an ambiguous note: Will he catch his plane back to Chicago, returning to his wife and child, or stay with Céline, for whom he's been pining all these years? In Before Midnight we see that he stayed with Céline, and they now have twin daughters, though he's torn with guilt about the son he abandoned. The new film covers one day in their lives, on vacation in Greece, the land of ancient dreams and fallen gods, with their future together in doubt.