Meet Plugfones: Earplugs and Headphones in One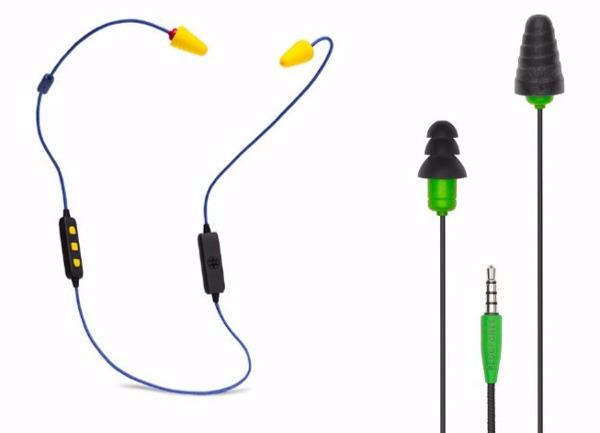 You need ear protection for a loud home project (or for use at work) but want to be able to listen to music or (
Sound &amp Vision
) podcasts rather than complete the job in (near) silence. What to do?
Rack-A-Tier, the Port Angeles, Washington-based supplier of specialty electrical tools, has combined noise reducing earplugs with "high-quality audio speakers" in their new Plugfones so you can work hard and rock hard.
Designed to fit securely in your ear without falling out, Plugfones are described as better than traditional earplugs because you can hear what's going on around you while you listen to music, audiobooks, or podcasts.
You can order Plugfones in wired (Protector Wired) or wireless (Freedom Bluetooth) versions, with or without protective volume limiting. In the nonrestrictive, rock-out-at-your-own-peril version, you can crank it up as loud as you want, while the volume limiting model keeps the audio level at or below 82 dB per OSHA standards while meeting ANSI noise reduction standards for hearing protection from outside noise of up to 30 dB.
Both models are made with tear-resistant Tuff Cord wires and have replaceable foam and silicone eartips (extra eartips included). The Freedom Bluetooth battery-powered, wireless model is said to last up to 12 hours of play per charge and includes a carrying case and USB charging cord. Either model can be ordered in black with green eartips or blue with yellow eartips.
Wired pricing is $20 for the standard Protector Wired, $41 for the Protector Plus with in-line mic, and $47 for the Protector Plus VL with volume limiting. Wireless pricing is $114 for the Freedom Bluetooth and $121 for the Freedom Bluetooth VL with volume limiting.
For more information on the Plugfones Freedom Bluetooth model, visit rack-a-tiers.com. For details on the Protector Wired model, click here.