Meet the Parents & Meet the Fockers (Blu-ray)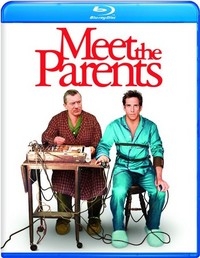 Greg Focker (Ben Stiller) is a male nurse who is ready to propose to his girlfriend Pam (Teri Palo) during a weekend visit to her parents' home, but her father (Robert De Niro) takes an immediate dislike to him. Despite his best efforts, Greg can't seem to make any headway with the old man, and disaster looms around every corner.
In the hilarious sequel, Greg is set the marry Pam, and the pair travel via motor home to meet Greg's parents, but there's a catch. Pam's parents decide to make the trip, and when the two families get together, they realize how different they are.
Meet the Parents is a film that has grown on me over the years, and every time I watch it, I enjoy it a little more. De Niro is outstanding as the overprotective father and doesn't get enough credit for being a great comedic actor. I love how the sequel does a little role reversal and he becomes the guy being put in uncomfortable situations over Greg.
Video Highlights

VC-1/1080p encodes on a BD-50 discs
Inconsistent presentation
Occasional ringing, especially in Parents
Decent color reproduction
Adequate black levels
Audio Highlights

DTS-HD MA 5.1 soundtracks
Dialog-intensive
Front-heavy presentation
Unassuming ambience in the rear speakers
Neither film will be used for demo purposes, and I'm not sure the upgrade is worth a double-dip over the DVDs.
Bonus Materials

Meet the Parents

Feature commentary
Deleted scenes and outtakes
De Niro Unplugged
The Truth About Lying featurette
Silly Cat Tricks
Jay Roach: A Director's Profile
Spotlight on Location EPK
Theatrical Trailer
Meet the Fockers
Feature Commentary
Deleted scenes and bloopers
Inside the Litter Box: Behind-the-Scenes with Jinx The Cat
The Manary Gland
Fockers' Family Portrait
The Adventures of a Baby Wrangler
Matt Lauer Meets the Fockers
Both discs include BD-Live capability with a Little Fockers sneak peak, pocket BLU application, Social Blu, My Scenes, and uHear, a new feature that instantly skips back a few seconds and turns on the subtitles for the section you couldn't hear.
It isn't often that a sequel outdoes the original, but that's the case here. I think teaming De Niro with Barbara Streisand and Dustin Hoffman was a brilliant move by the studio and leads to a ton of laughter. Recommended.
Release Date: November 30, 2010
Studio: Universal
Meet the Parents
Movie: 7/10
Picture: 7/10
Sound: 7/10

Meet the Fockers
Movie: 8/10
Picture: 8/10
Sound: 7/10

Review System
Source
Oppo BDP-83 Blu-ray player

Display
JVC DLA-RS1 projector
Stewart FireHawk screen (76.5" wide, 16:9)
Electronics
Onkyo Pro PR-SC885 pre/pro
Anthem PVA-7 power amplifier
Panamax M5400PM power conditioner
Speakers
M&K S-150s (L, C, R)
M&K SS-150s (LS, RS, SBL, SBR)
SVS PC-Ultra subwoofer
Cables
Monoprice HDMI cables (source to pre/pro)
Best Deal analog-audio cables
PureLink HDC Fiber Optic HDMI Cable System (15 meters) from pre/pro to projector

Acoustical treatments from GIK Acoustics
LATEST VIDEO