McIntosh Mates Tube and Solid-State Amps in Bold Dual-Mono Design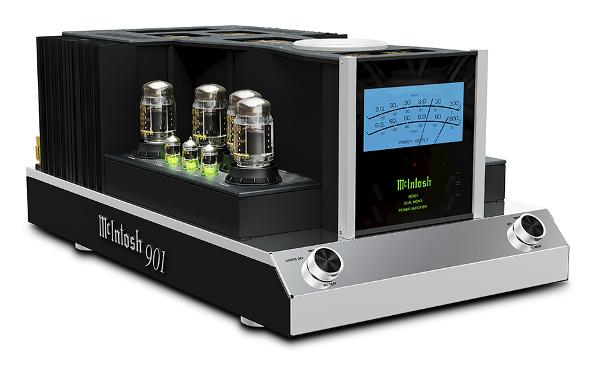 McIntosh today introduced a one-of-a-kind dual-mono amplifier that combines a 300-watt tube amplifier, 600-watt solid-state amplifier, and crossover in one chassis designed to provide the "ultimate" bi-amping solution.
The striking MC901 ($17,500) divides power duties between a tube section designed to power a speaker's mid and upper drivers and a solid-state section built to drive power-hungry woofers, negating the need for two separate amplifiers and an external crossover.
Fourteen vacuum tubes are deployed in the tube section — eight KT88 output tubes plus four 12AT7 and two 12AX7A signal tubes — which uses McIntosh's patented Unity Coupled Circuit output transformer to deliver "a full 300 watts" into impedances as low as 2 ohms.
A new Power Guard Screen Grid Sensor is said to help prevent premature vacuum tube failure by monitoring screen grid current in the output tubes. If the current becomes too high, the sensor attenuates the input signal in real time to keep the tubes operating at safe levels.
In the solid-state section, McIntosh's Autoformer technology is used to deliver "a full 600 watts" into impedances as low as 2 ohms.
Each amplifier has its own dedicated power supply and is designed to work synergistically with the other to ensure it amplifies only its intended range of frequencies for "unparalleled performance." Relative gain levels for each amplifier can be adjusted from –6 dB to +3 dB and the built-in crossover provides controls for optimizing performance. The filters can be bypassed via a direct mode.
In keeping with McIntosh tradition, the MC901 boasts the brand's classic blue watt meter — in this case, the new DualView version with one meter dedicated to the tube amp, the other to the solid-state section. The two-in-one amplifier is loaded with longstanding McIntosh technologies such as Power Guard (in the solid-state section), "quad balanced" architecture, and equipped with patented Solid Cinch speaker binding posts, monogrammed heat sinks, and McIntosh's eco-friendly power-management system.
Although the MC901 has its own distinct look, signature McIntosh design cues remain intact, including circuit diagrams printed on its top panel, die-cast aluminum name badges on each side panel, and a black glass front panel adorned with an illuminated logo and silver control knobs.
For more information, visit mcintoshlabs.com.