McIntosh Launches Streamer, Flagship SACD Player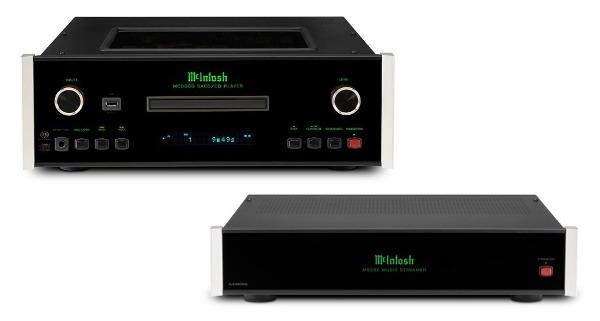 Adding to its steadily growing stable of new products, McIntosh today introduced two "best-in-class" audio source components that straddle the worlds of physical and digital media: the MS500 music streamer and MCD600 SACD player.
The MS500 ($6,000,) built around a Linux-based operating system described as stable and responsive, combines internet-based streaming and locally stored digital music into one streamlined device that supports playback of uncompressed files at resolutions up to 24 bits/192 kHz. The device provides direct access with presets to a number of streaming services, including Deezer, Murfie, Pandora, Rhapsody, SiriusXM, Slacker, Spotify, Tidal, and TuneIn.
McIntosh says the streamer is "ultra-quiet" thanks to the use of a 500-GB solid state drive with no moving parts and a new processor that is ventilated without the use of a noisy cooling fan. Three USB ports enable the connection of external storage devices, flash drives, and an external component with a built-in DAC, which can be used to create a second independent audio zone.
The MS500 is compatible with many popular home automation systems and can be controlled via free iOS or Android apps, a web browser, or the supplied remote control.
At the heart of the MCD600 ($7,000) disc player is a new eight-channel, 32-bit PCM/DSD digital-to-analog converter (DAC), which upsamples incoming PCM signals to 32-bit/384-kHz resolution and allocates four DAC channels to each of the left and right audio channels.
In addition to playing SACDs and CDs using a twin-laser optical pickup, the player can handle music stored on USB flash drives — easily jacked into the front panel — as well as user-created CDs or DVDs. Numerous file formats are supported, including AAC, AIFF, ALAC, DSD (up to DSD128), FLAC, MP3, WAV (up to 24-bit/192kHz), and WMA.
Connections include coaxial and optical digital inputs and outputs, a headphone output, unbalanced outputs, and fixed and variable balanced outputs, the latter of which allows the MCD600 to be connected directly to a power amplifier without a preamp.
Both products feature classic McIntosh styling with a black glass front panel, illuminated logo, and aluminum end caps.
For more information, visit mcintoshlabs.com.