McIntosh Audio Pioneers Tagged for CTA Hall of Fame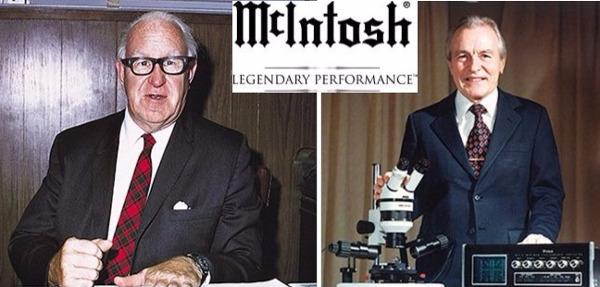 The Consumer Technology Association (CTA) today announced that two high-fidelity audio pioneers from McIntosh will be inducted into the Consumer Technology Hall of Fame at a ceremony in New York on November 7.
Frank McIntosh, the late founder of McIntosh Labs (left in photo), and the late Gordon Gow, one-time owner and president of McIntosh Labs, will be inducted along with 10 other industry leaders, including Dr. Leonardo Chiariglione and Dr. Hiroshi Yashuda, cofounders of MPEG, U.S. Congressman Darrell Issa, founder of Directed Electronics, parent company of Polk Audio, and inventor/futurist Ray Kurzweil
The Hall of Fame honors visionaries who have made a significant impact on the consumer technology industry. These leaders and entrepreneurs have laid the foundation for the technologies, products, services, and apps that are improving lives around the world.
The following biographies are from the CTA:
Frank McIntosh
High power with low distortion was the holy grail of sound amplification in the late 1940s. Frank McIntosh, along with engineering technician Gordon Gow, managed to lick the problem in 1949 with the McIntosh 50W-1 amplifier, which kickstarted the entire home hi-fi craze in the 1950s and the high-end home stereo market of the 1960s.

McIntosh was born on July 12, 1906, in Omaha, NE. Becoming an accomplished cellist, he performed with his brothers in the McIntosh String Trio over radio station WOAW (later called WOW) in Omaha while still in high school.

However, McIntosh turned down a music scholarship to pursue his interest in engineering. He taught math and radio at a YMCA school, wrote columns on radio for various newspapers, was radio editor for Popular Mechanics magazine and served as chief engineer at WOW radio. Starting in 1929, McIntosh spent eight years at Bell Labs, where he installed and worked on the equipment for 235 radio stations.

He then joined the Radio and Radar Division of the War Production Board in early 1942. After WWII ended, McIntosh started his own consulting business in the Washington, DC, area, designing radio stations and sound systems. He also was a partner with CBS President Frank Stanton in a local Muzak franchise, which required higher power but lower distortion amplifiers.

In 1946, McIntosh hired Gordon Gow as an engineering assistant to help develop a solution. McIntosh and Gow developed a symmetrically driven balanced output stage, which became known as the "unity coupled circuit," with five patents eventually granted. In 1949, McIntosh founded McIntosh Engineering Laboratory in Silver Spring, MD, and built the 50W-1 amplifier with Gow, which delivered an unprecedented 50 watts from 20 hertz to 20,000 hertz at less than one percent distortion. After a cover story in the December 1949 issue of Audio Engineering magazine, NBC and the Canadian Broadcasting Corp. both bought dozens of units, launching the company.

In April 1951, just as McIntosh amplifiers and preamplifiers were listed for sale in various electronics mail order catalogs, the company removed "engineering" from the its name and moved to downtown Binghamton, NY. In 1956, McIntosh built a new headquarters and factory in Binghamton, where the company is still located.

"Mr. Mac," as he was known to his employees, soon expanded beyond amplifiers to preamplifiers, tuners, receivers, speakers and other quality audio gear. The company became a leading brand in audio engineering and contributed to the growth and success of what would become the high-end audio market.

McIntosh products became readily identifiable thanks to their black glass front panels, "McIntosh Blue" amplifier power meters and iconic gothic logo. In 1962, McIntosh started the McIntosh Amplifier Clinic, which featured in-store McIntosh amplifier testing and free repairs for consumers.

McIntosh amplifiers were used at the Woodstock Music Festival in 1969, and, in 1974, the Grateful Dead's live concert "Wall of Sound" system used 48 300-watt per channel McIntosh model MC2300 solid state amplifiers, outputting 28,800 watts of continuous power.

McIntosh, who referred to himself as "the old man," was a beloved boss known for his concern for his employees, his gruff voice and sense of humor. When asked if it was true that Scotsmen are cheap he would reply, "No, we just have total control over our tendencies to be over-generous." McIntosh retired in 1977 and moved to Phoenix, AZ. Gow succeeded him as company president.

Gordon Gow
High-quality elevator music may seem like an oxymoron, but improving the aural quality of Muzak systems led to the pairing of Gordon Gow and Frank McIntosh. Together, they developed a breakthrough circuit that enabled high-power sound amplification with low distortion. That led to the creation of McIntosh Laboratory Inc.: the audio equipment manufacturer that established the high-end hi-fi and stereo markets.

Gordon Gow was born in Lethbridge, Alberta, Canada, on September 16, 1919, to Ella Louise Roy and Walter Frederick Gow. After graduating high school in July 1937, he started his electronics career at CJOC radio in Calgary, rising to chief technician and part-time announcer. In January 1941, Gordon joined the Royal Canadian Air Force, where he earned the rank of flight lieutenant.

During WWII, in January 1943, while assigned to Great Britain's RAF in West Africa, Gow was awarded an O.B.E. (Order of the British Empire) for his pioneering work on radar signal propagation and according to his citation, "devised and constructed a radio beacon that enabled aircrews to find convoys and return to base under the worst weather conditions."

While stationed in Washington, D.C., in 1944, Gow met another visionary engineer, Frank McIntosh. After the war Gow joined McIntosh's audio consulting company. At the time, McIntosh was a partner with CBS President Frank Stanton in a local Muzak franchise and was seeking a high-power low-distortion amplification solution. Gow and McIntosh developed a symmetrically-driven balanced output stage that became known as the "unity coupled circuit," for which five patents were granted. In 1949, McIntosh founded McIntosh Engineering Laboratory in Silver Spring, MD, and, with Gow as vice president, built the 50W-1 amplifier, which delivered an unprecedented 50 watts from 20 hertz to 20,000 hertz at less than one percent distortion.

As the company's sales manager, along with a brilliant engineering staff, Gow directed the design of all of McIntosh's audio and speaker equipment over the next two decades, championing the use of top-notch test equipment to ensure the superiority of the company's products.

After buying an ownership stake in the company from McIntosh and being appointed president in 1977, Gow began to expand McIntosh's presence in Far East Asia. In 1979, Gow met Oki Sugano, president of the Japanese Audio Society and editor of Stereo Sound magazine, which proclaimed McIntosh's electronics and XRT20 Loudspeakers the best in the world, helping to cement the company's reputation and popularity along the Pacific Rim.

In 1982, Gow licensed the new compact disc technology, resulting in the development of the MCD7000 McIntosh Compact Disc Player, bringing the company into the digital age and reinvigorating the company's fortunes.

On the business side, Gow initiated McIntosh-sponsored retailer sales and communication workshops. His desire to improve the effect of language when communicating with retailers and consumers led to Gow joining the board of directors for the International Society for General Semantics (ISGS), and later becoming vice president.

During his time as vice president and president, Gow built the McIntosh brand into a worldwide phenomenon. Today, McIntosh tube amplifiers from the 1960s are sought after by audiophiles around the world commanding prices as much as 50 times their original cost. Gow traveled the world extolling McIntosh's brand, and was known as a mentor, a counselor, a leader and a visionary.