Maurice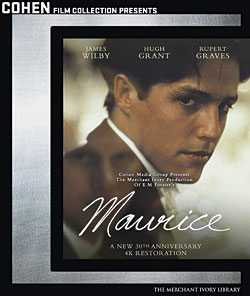 Following the 4K restoration, presented here in 1080p, lighting is warm, but even in low light, there's good-to-excellent contrast, producing brightest whites in dress shirts and deepest blacks in dinner jackets and masters' cloaks. There's a nice range of restrained tones, with pale browns of soaked sands against gray skies and the steely English sea. Despite even focus across in-depth compositions, there's detail in herringbones and tweeds, weave in cane chairs, and patterns in rugs. Many wavy locks and strands of floppy upper-class hair are visible. A fair amount of grain maintains the film-like quality.
Two 5.1 soundtracks adapted from the original stereo deliver an immersive orchestral score mixed with Tchaikovsky's gorgeous compositions, with strings and various sections of a choir singing Gregorian chants in chapel well separated into different channels. The all-important Forster dialogue is clear and resonant in the front channels alongside most of the atmospherics.
A crammed disc of substantial extras includes fascinating and frank interviews with co-screenwriter Kit Hesketh Harvey and the leads looking back to what was a turning point in their lives. More interviews, with Ivory and cinematographer Pierre Lhomme, address production background and issues raised by the subject matter. The pair also appears in a Q&A that's equally down-to-earth and honest. Another Ivory piece focuses on the screenplay, and an archival featurette has the director overviewing the film while composer Richard Robbins explains the music, each illustrated with clips. Forty minutes of deleted scenes with commentary by Ivory expand the possibilities of an already creatively complex film.
Blu-Ray
Studio: Cohen Media, 1987
Aspect Ratio: 1.66:1
Audio: DTS-HD Master Audio 5.1, Dolby Digital 5.1, LPCM 2.0
Length: 140 mins.
MPAA Rating: R
Director: James Ivory
Starring: James Wilby, Hugh Grant, Rupert Graves
Based the novel by E. M. Forster, Maurice is a groundbreaking room with a different view, projecting as much romance, passion, and class consciousness as producer Ismael Merchant and screenwriter-director James Ivory brought to their earlier hit adaptation of another Forster novel. In 1909, a student at Cambridge, Clive, urges college colleague Maurice to embrace the love of male physical beauty as described in classical literature and accept their mutual platonic love. When, despite being a viscount, another student's life is ruined by police entrapment, Clive is shamed into a hysterical breakdown, retreating into heterosexual marriage and an upper-class career in law and politics. Middle-class Maurice, meanwhile, believes that "your deeds are more important than your words," and so acts on his nature rather than locking it away.