Marantz VP-11S2 DLP Projector
Price
: $15,000 (short throw), $18,000 (long throw)
At A Glance
: Exceptional shadow detail • Razor-sharp picture • Excellent optics • A few tweaks would be welcome
DLP's Crowning Achievement
The Marantz VP-11S1 was one of the first 1080p projectors I had the opportunity to review. It served as my reference projector for quite a while and is still one of the best 1080p projectors I've seen. Since the VP-11S1's release, Marantz has brought two more 1080p offerings to the table, the VP-15S1, which offers stunning performance at a more affordable price point, and now, the flagship VP-11S2.
Design
Unless you look closely, the VP-11S2 and VP-11S1 are almost indistinguishable from each other. The chassis silkscreen logos are positioned slightly differently, giving you the ability to read them regardless of projector orientation. Also, the trim is a darker black on certain parts of the body.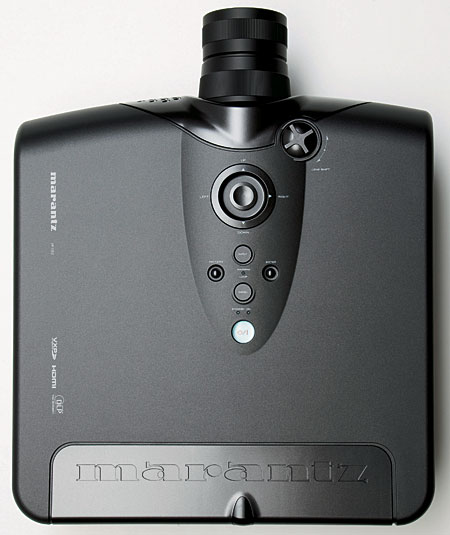 Once again, Marantz uses a custom Konica/Minolta lens and a rugged chassis that is both heavy and elegant. The lens is available in two different configurations: short-throw and long-throw (at extra cost). For this review, I received the long-throw lens. Marantz recently announced that it has implemented a new lens coating. It claims the coating will increase the already stellar ANSI contrast performance to 1,000:1, which is higher than any projector I'm aware of. Marantz has used this coating on its long-throw lenses, including the one on our review sample, for some time. However, it recently incorporated it into the short-throw lens as well. If you're looking at the short-throw version, you should confirm that your sample has the new coating.

The VP-11S2's lens is handpicked for optimum quality. The VP-11S1 was easily one of the sharpest projectors I've ever used, and the VP-11S2 continues that level of performance with its outstanding pixel clarity and focus uniformity. Chromatic aberration was virtually a nonissue; I only saw a tinge of it with red at the extreme ends of the image, similar to what I saw with the VP-11S1. Focus uniformity was excellent across my screen, and per-pixel focus was dead on. I could easily make out the dimple in the center of each micromirror pixel on the screen.
The back panel is identical to the previous VP-11S1 design. This includes a small light that you can turn on and off to make connections in a dark room, which I always find very convenient.
The back panel features two HDMI 1.3 inputs, two component video inputs, and a D-sub 15-pin input for RGB-HV. For the custom installer, you'll find an RS-232 connection, two 12-volt triggers for automation, and a remote interface.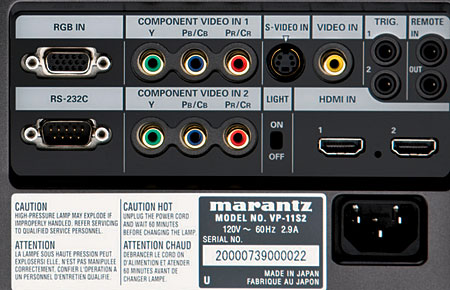 Marantz employs Texas Instruments' latest 1,920-by-1,080 DarkChip 4 DLP chip. It boasts a 30-percent increase in specified chip-level contrast performance. The VP-11S2 uses handpicked Digital Micromirror Devices (DMDs) for the best performance. I've heard from several other projector manufacturers that there are indeed varying degrees of quality when it comes to DMDs. The color wheel is also a bit different. You can adjust it for speed, with the option of 4x, 5x, or 6x. This helps viewers with sensitivity to RBE (rainbow effect) from color separation.