Marantz SR7007 A/V Receiver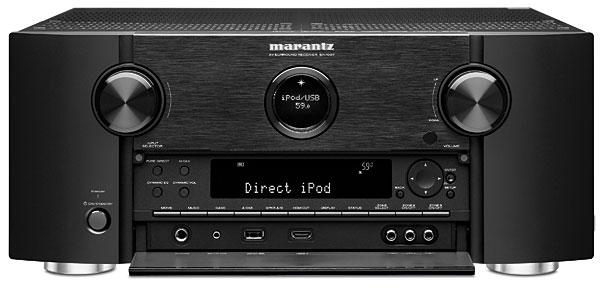 Price
: $1,800
At A Glance:
Proprietary HDAM topology • 4K video processing • Audyssey, the works
Marantz has come a long way since Saul Marantz started building audio products in his Kew Gardens, New York, basement. The latest twist in the story is the reinvention of D&M Holdings—that's D for Denon and M for Marantz—into D+M Group. In addition to trading its ampersand for a plus sign, the company has radically expanded its product lines to include more new products and even new product categories. While Denon has gotten a lot of attention for the latter, including four jam-packed headphone lines, Marantz is also experimenting with new kinds of fun. Its first self-contained iDevice docking system is the Consolette, with a retractable dock, AirPlay, DLNA, Internet radio, two-way internal speakers, and cosmetic echoes of the Saul Marantz–designed preamp that got the party started. But Marantz has not neglected its longtime status as a maker of great home theater products. An overhaul of its audio/video receiver line's upper end has brought three new models. The top model soon found its way into the guest-receiver berth on my rack.
Behind the Porthole
The new Marantz AVRs include the SR5007 ($850), the SR6007 ($1,200), and the one reviewed here, the new top-of-the-line SR7007 ($1,800). These 7.2- channel models adroitly combine traditional elements like the famous Marantz porthole with the latest gimmies. Features common to all three models include wireless Apple AirPlay and wired iOS connectivity via USB. Also provided are numerous forms of radio including Sirius XM, Pandora, and generic Internet radio—though digital over-the-air HD Radio, AM, and FM are exclusive to the SR7007. A control app is available for both Android devices and iPhones, iPads, and iPod touches running iOS 4.3 and up.
All three models include the full suite of Audyssey technologies starting with the foundation of Audyssey MultEQ XT auto setup and room cor- rection. It ranks second out of the four Audyssey room correction schemes, with better filter resolution than MultEQ and 2EQ, but less than the top-line MultEQ XT32 (which few manufacturers use). Included is Audyssey's DSX for those who wish to add either front height or width channels to the basic 5.1-channel speaker array, with Dolby Pro Logic IIz provided here as a height-enhancing alternative. Also present are two features I'd call indispensable (in Audyssey or competing forms): the one-two punch of the Dynamic EQ and Dynamic Volume low-volume listening and volume-leveling modes.
On the video side, the new Marantz receivers support the latest generation of video processing with scaling to 4K x 2K resolution. While there are no 4K consumer-level signal sources available at this moment in video history, and only one native 4K consumer projector we're currently aware of (from Sony), owners of that unit or a future 4K display may appreciate having 4K video passthrough and scaling to spiff up their 1080p sources. The receiver can superimpose its user interface over 4K video.
Why the $600 gap between the SR7007 and its step-down sibling SR6007? While there are a few minor differences in their feature rosters, the main reasons have to do with amplification. First of all, the SR7007 is rated at 125 watts per channel, versus 110 for the SR6007 and 100 for the SR5007. Perhaps more interestingly, the top-line model is the only one to feature the Hyper-Dynamic Amplifier Module (HDAM) in the preamp stage. HDAMs are said to provide the benefits of discrete components, such as better imaging and detail, but in a smaller package for the shortest possible signal path and less induced noise. Another amp-related nicety, borrowed from Marantz's high-end stereo gear, is Current Feedback Technology. Most amps use voltage feedback to control distortion. With current feedback, the circuit can respond more quickly to rapid changes in input voltage. Marantz touts reduced distortion at lower output levels, where amps function most of the time, and says it is the only A/V receiver manufacturer to use current feedback.
Seen up close and personal, the SR7007 is a handsome beast. Its front panel curves around the sides, a trait it shares with Marantz's high-end two-channel gear, with input-select and volume knobs on either side. On this model, the sweet porthole display is augmented with a 5.3-inch display that hides beneath a flip-down door. The secondary display provides the same information as the porthole, but in a more readably large font, and adds some additional information. Also beneath the door are the usual front-panel jacks, including iOS-hip USB; various listening-mode and zone-select buttons; and a complete set of menu navigation controls, so even if you lose the remote, you won't lose access to the receiver's inner workings. Of course, if you use the control app, you might not even notice that the remote has taken a siesta between the sofa cushions.
Back-panel connectivity is par for a pricey machine. There are six HDMI inputs in addition to the seventh one on the front panel—and three HDMI outputs, one or two more than you'd get with most receivers. Marantz suggests that you might want to feed a projector and a panel with the same signal, for night or day viewing, while feeding a different signal to a third display.
The receiver's seven amp channels are accessible via 11 sets of binding posts, allowing you to wire your system for three of the four following enhancements: height, width, back-surround, or front-channel biamping. Although you'd be able to use only one of those enhancements at a time, the extra speaker terminals would allow you to switch among them by simply changing menu settings, sparing you the hassle of physically moving speaker cables. (To switch to or away from biamping, you'd also have to rewire your speakers to remove or restore the jumpers.)
Audyssey setup was quick and easy, as usual, and needed a tweak, as usual. It detected my chunky stand-mount speakers as Large. While they do have some bass response, it rolls off, and they function better as Small with an 80- hertz crossover. I made the necessary changes.
Associated equipment included five Paradigm Reference Studio 20 v.4 speakers, an Oppo BDP-83SE universal disc player, Micro Seiki BL-51 turntable, Shure M97xE phono cartridge, and Onix OA 21s integrated amp serving as phono preamp. All movie demos were on Blu-ray with lossless DTS-HD Master Audio soundtracks.
Dark Tide to Laughing Brook
Marantz receivers tend to be strong performers in their various price ranges. The brand seems to have an institutional talent for methodically checking off lists of audio dos and don'ts. Do provide a balanced account of the frequency spectrum; don't bend any portion of it out of shape. Do play clean; don't pollute the signal with obvious distortion. Do play clean even at high volumes, with speakers of reasonable efficiency; don't compress or get nasty when the going gets tough. Do offer low-level resolution; don't get vague when dialogue is hushed or music drops down to pianissimo. Do generate believable imaging and panning within the speaker layout, and occasionally beyond; don't let images become less than solid. Do support a well-defined soundfield; don't let the soundfield collapse. Do layer or blend depending on what the content dictates; don't use a one-size-fits-all approach that makes everything sound the same. You get the idea. Marantz is solidly in the do column.