Marantz SR7005 A/V Receiver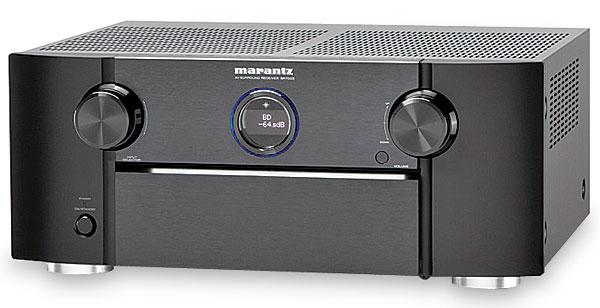 Price
: $1,600
At A Glance
: Top-line model with porthole front panel • Step-up Audyssey MultEQ XT auto setup • DLNA, Bluetooth, Pandora, vTuner, Rhapsody, Napster
Porthole Chic
It's not unusual for a Marantz A/V receiver to have a curved front panel, inspired by the company's high-end two-channel gear. But this one has an unusual twist found in no other AVR models (so far). Between the usual volume and source-select knobs is a porthole display. It's not large enough to support much information—but if you flip down the large door below it, another display appears.
I wonder about the porthole. The user can gaze upon it and see the selected source and volume. But what if the porthole is actually a two-way window? Does the Marantz gaze back at the user? Frankly, I wouldn't put it past this AVR. It already uses a microphone to hear acoustic conditions in the room and make appropriate corrections. If it can hear us, seeing us wouldn't be much of a stretch. After all, it has a porthole.
If I'm right about this, what would the AVR see? Perhaps it would see you looking visibly relieved by Audyssey MultEQ XT, which automates most setup chores. Then again, it might see you scratching your head over whether to use the Dolby Pro Logic IIz height enhancement, its Audyssey DSX equivalent, the alternative of Audyssey width enhancement, or any of a number of other options. The AVR might even see you in raptures of Pandora and HD Radio listening. I had a distinct feeling it was watching me. At least it didn't follow me into the bathroom.
Ring in the 05
The SR7005 is one of three new 05 series Marantz A/V receivers, also including the SR6005 ($1,000) and SR5005 ($800). All of the new 05 AVRs have HDMI 1.4a with Audio Return Channel, Audyssey auto setup and low-volume listening modes, Dolby Pro Logic IIz height enhancement, iPodfriendly USB, and Bluetooth capability via an optional RX101 adapter ($100). The SR7005 earns its $1,600 price tag with unique aesthetics, more power, more HDMI inputs, iPhone as well as iPod compatibility, Audyssey height/width enhancement, expanded network audio features, and compatibility with external control interfaces such as Crestron, AMX, and Control4.
This AVR boasts 125 watts per channel rated with two channels driven. As usual, you can learn more by inspecting our measurements. The amps are built from discrete components, with modular construction and current (as opposed to voltage) feedback design.
The secondary front-panel display, below the porthole, is a pretty big one because Marantz wants to give you the option of tweaking a wide array of things without turning on your video display. Also beneath the panel are menu navigation, listening mode, zone, and other controls. Front-panel inputs include iPod/iPhone-friendly USB and HDMI.
On the back panel, the AVR's seven channels are served by 11 sets of binding posts. This allows you to connect front height, front width, and back surround speakers, switching among them according to your desire of the moment. One set can also be dedicated to biamping the front left and right speakers. The connectivity suite includes a total of six HDMI inputs and two outputs. As is increasingly common, component and composite video are present for legacy source components, but S-video is not. Multichannel analog connectivity includes 7.1-channel inputs and 7.2channel outs. This is also one of the rare A/V receivers with a phono input.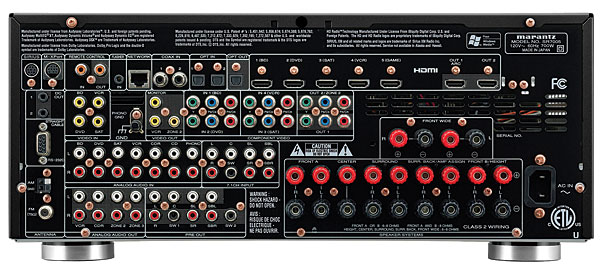 The SR7005 sports an attractive and colorful new graphic user interface that bears some resemblance to that used by stablemate Denon. The remote is a basic collection of small buttons. Marantz has a separate line of remotes, including two PCprogrammable ones—unfortunately, you'll have to buy them separately for $200 (RC2001) to $350 (RC3001, with RF extender).
As I mentioned above, this AVR supports Dolby Pro Logic IIz for front height enhancement and Audyssey DSX for both height and width. Recommended placement for the width speakers is 60 degrees off center (versus 30 degrees for the main left and right speakers). Height speakers should generally be elevated by 45 degrees, and 45 degrees off center.