Marantz SR6003 A/V receiver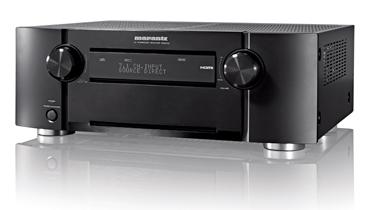 Sometimes you take a shine to a piece of gear not for any one big reason but for a host of little ones, some of them hard to define. The Marantz SR6003 A/V receiver is one such item. It's nicely made and very attractive, but not drop-dead on either score. Compared with its competitors' higher-end offerings - and even with Marantz's own - it's a good value, but not an astonishing one. It's a truly fine audio performer and a versatile video controller, but so are a lot of other kilobuck-class receivers. And then there are the indefinables: the finished feel of the front panel and controls, the classy looking remote, the Goldilocks-approved overall size (including an unusually shallow 16-inch depth that lets it fit where others won't), even a model name that eschews the difficult-to-remember multihyphenated alphanumerics of so many other receivers.
SETUP
Setup went perfectly smoothly. The receiver's implementation of Audyssey's MultEQ XT auto-calibration/room-correction routine proceeded as usual, with the results I've come to expect in my room from previous tests: subtly tighter and perceptually deeper-sounding bass, and a sort of spatial "aeration" to the treble that came without any brightening or harshening effects.
MUSIC & MOVIE PERFORMANCE
To keep things short and sweet, the SR6003's sonic chops were beyond reproach. I was particularly impressed by the breadth, depth, and power of its audio section, which delivered a level of performance more akin to separate components than to a receiver.
As a plain ol' stereo amplifier, the Marantz proved exceedingly able. Driving my compact, middling-sensitivity front speakers full-range, it presented instruments and ambient crowd noise from the classic CD Jazz at the Pawnshop with the preternatural presence and almost shocking clarity that have made this session an audiophile favorite for nearly 3 decades now. Cymbals sounded arrestingly lifelike and airy, bass ample yet tight, and sax attacks bitey and brassy. Piano tones carried just that touch of close-miked, small-room boxiness you hear sitting at a front table. And drum solos, like the one on "Barbados," had impressive dynamic smack. (Impressive but nonetheless finite: At "live" levels, staggering amounts of power are required to do full justice to trap drums recorded naked with no processing or compression applied during mixing.) In short, beyond that last half-decibel or so of dynamic punch, nothing here suggested I wasn't listening to my usual preamp/power-amp combo.
I happened to watch this year's NFC championship game - an entertaining contest between two rather mediocre teams (said the Patriots fan, bitterly) - with the SR6003 quarterbacking my system, and was pleasantly surprised by the broadcast's surround mix, one of the best I've heard from a live sports event. The receiver's surround palette adds the less universal Circle Surround II (CSII) to the ubiquitous Dolby and DTS flavors. While Dolby PLIIx yielded the most pleasingly balanced presentation of announcers, field, and crowd sounds in the complex surround mix, CSII's subtly intensified crowd noise and greater ambience envelopment brought an extra degree of spatial excitement.