Marantz Previews Integrated Amp with Wireless Streaming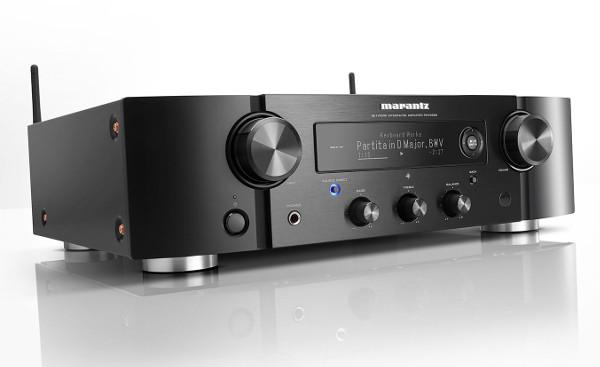 Marantz today announced plans to introduce a high-performance integrated amplifier with onboard wireless streaming in mid-November.
Hailed as the company's first fully discrete integrated amp with streaming capabilities, the PM7000N ($999) incorporates the app-based HEOS wireless platform developed by sister company Denon, and supports multiroom hi-res streaming from Amazon HD, Tidal, and personal music libraries in addition to providing direct access to Spotify, Pandora, and TuneIn internet radio.
Lossless ALAC, FLAC, and WAV files with resolutions up to 24 bit/192 kHz are supported in addition to DSD 2.8-MHz and 5.6-MHz files. The amp also supports streaming via Bluetooth and Apple's Wi-Fi-based Airplay 2 platform in addition to voice control via the popular virtual-assistant platforms Amazon Alexa, Google Assistant, and Siri.
The PM7000N's recently developed preamplifier section is said to leverage the latest electronic volume control technology to achieve "outstanding channel separation and exceptional signal-to-noise ratio." Custom high-grade audio components are used throughout and Marantz's proprietary Hyper-Dynamic Amplifier Modules, built using discrete surface-mount components, are employed to deliver 2 x 60 watts into 8 ohms or 2 x 80 watts into 4 ohms. The design also incorporates a high-speed instantaneous-current power supply and toroidal transformer.
Although digital circuitry is installed into a shielded case to isolate analog circuitry from digital interference and noise radiation, a Pure Mode that disables USB-A and Wi-Fi and/or Bluetooth, individually or simultaneously, is provided to turn the PM7000N into a pure analog amplifier.
Analog connections include four inputs and one output in addition to a USB-A input for hi-res files and one coaxial and two optical digital inputs and outputs, the latter for connecting a digital TV or cable/satellite set-top-box and Blu-ray player. Digital inputs wake up automatically when an audio signal is sensed and TV remote controls can be programmed to turn the amp on or off, select sources, and control master volume with mute.
Other highlights include nickel-plated-brass speaker terminals; front-panel bass, treble, and balance controls; a selectable source-direct mode that bypasses tone and balance controls, and a phono input with an integrated FET (field-effect transistor) that's said to enhance signal purity by ensuring a high input impedance and eliminating the need for AC coupling capacitors.
For more information, visit marantz.com.