Marantz Model 40n Streaming Integrated Amplifier Review Page 2
The Model 40n's side panels are made of aluminum and its top and (double-layer) bottom panels are made of steel with a generous amount of the real estate used to dissipate heat.
Finish options are black or silver/gold and the Model 40n comes with Marantz's hefty RC005PM wand-type remote, which can also control a Marantz CD player. The handset is attractively styled and fitted with a finger groove that makes it easier to hold.
No all-in-one streaming amplifier contains every possible feature. So, although the Model 40n is rich in features, it does not have room-correction software, a USB-type-B port for use with a computer, or a display area big enough to show album art. It also lacks support for the Master Quality Authenticated (MQA) file format and skips some of the more esoteric connectors and data transfer protocols such as XLR and AES/EBU. And while the 40n sports ARC and Bluetooth functionality, it doesn't provide the latest versions of those features—eARC (enhanced Audio Return Channel) and aptX HD-enabled Bluetooth, both of which can potentially deliver better audio quality (though eARC doesn't provide an advantage over ARC in a two-channel setting).
Even so, the absence of one or all of these features is, to my mind, nowhere close to a dealbreaker. Despite the absence of a USB-type-B port, audio files stored on a computer can be accessed over Wi-Fi via Heos, and a large display may not be necessary since most listeners will sit a fair distance from the Model 40n and peruse album art via an app on their mobile device. Also, while some manufacturers include eARC support on stereo streamers, Marantz and others feel it is only needed for multichannel components.
Setup
In the box with the Model 40n were, among other things, a quick start guide, a power cord, the remote control, and screw-on antennae for Bluetooth and Wi-Fi. An exhaustive 114-page owner's manual is available on Marantz' website for those who want to delve into the 40n's inner workings.
Preparing to set up the Model 40n in my bedroom, I was stunned by the unit's weight and superb fit 'n finish. Even its speaker terminals are impressively large and robust. This gorgeous beast makes most similarly-priced streaming amplifiers seem anemic. Even so, I detected a hint of compromise, which is inevitable on any $2,500 component. Although the control knobs are constructed of aluminum, they don't turn quite as luxuriously as those on other, mostly higher priced, components.
After attaching the power cord and Wi-Fi and Bluetooth antennae, I connected the Model 40n to a pair of Bache Audio Sonata EX2 ($2,800/pair) passive monitors. Later, I also connected a JL Audio Dominion d-110 subwoofer. To test drive the unit's ARC feature, I connected its HDMI port to an LG OLED TV.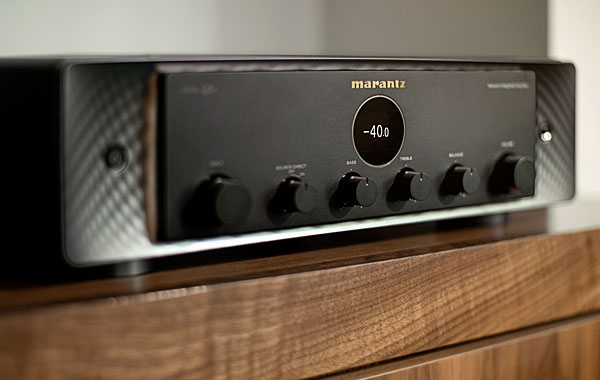 Once the Model 40n was cabled up, I connected a USB thumb drive loaded with music files and downloaded the Heos app to my iPad mini. The app discovered the 40n and guided me through several easy setup steps, such as updating the app and the 40n's firmware, entering my Wi-Fi and music streaming service credentials, and opening a Heos account.
Using the remote control to access the Model 40'n's menu system, I configured the digital signal settings, which are often a matter of personal preference. In this case, I selected Filter 2, which sounded fuller, but created a slightly more diffuse stereo image than Filter 1. I also selected the "Narrow" Lock Range setting. At no time did I experience unwanted noise.
I generally used the Source Direct setting to bypass the tone controls. However, I sometimes found it handy to use those controls to dial back the bass, thus helping to minimize low-frequency distortions inherent in my acoustically untreated room. When using the subwoofer, I set the low-pass filter to 80Hz. Here again, the appropriate setting is arguably subjective.
I found the HEOS app to be robust, intuitive and easy to use, though it's not as rich in features as several competing apps, including the one for Bluesound's BluOS platform. Unlike some of those competing apps, Heos doesn't support the Qobuz music streaming service or enable hardware features such as room correction, Dolby Atmos, bass management, and wireless surround sound. Still, I found it hard to complain because the Heos app is very user-friendly and works well.
Performance
It didn't take more than a track or two to discover the Model 40's sonic personality, which emphasizes large soundstaging, solidified images, warmth, and harmonic density. With the Who's "Magic Bus," from The Who, Live at Leeds (16/44.1 FLAC, Tidal), the band was placed on an expansive and airy soundstage. When Keith Moon sets the song's meter, tapping together a pair of Latin American claves, the Model 40n reproduced the sound with a rich, woody timbre and clean transient pops. Pete Townshend's intervening electric guitar sounded full-bodied and it was easy to hear those notes ricocheting off the venue's left wall.
Alexis Cole's "Something So Right," from The World's Greatest Audiophile Vocal Recordings, Volume 2 (16/44.1 FLAC), sounded sophisticated and gorgeous. Cole's voice, backed by the warm sound of Marvin Sewell's guitar strings, came across as relaxed and liquid with beautiful midrange bloom. All of the sonic images were large and solidly planted against a quiet background. At the same time, the high-frequency glissando of Sewell's fingers sliding between notes was cleanly reproduced without being grating, a common failing of components that don't cost an arm and a leg.
If pushed to identify a minor quibble I had with the Model 40n's sound, it would be that it produced a smidgeon less detail than some of its competitors. NAD's C 399 integrated streaming amp, which I reviewed for the June/July 2022 issue and still have in-house, reproduced Sewell's guitar strings on "Something So Right" with slightly more vibrational spring, though the difference was subtle and would likely go unnoticed without a contemporaneous comparison. Indeed, absent such a comparison, the long and metallic low-level dynamics of cymbal decays seemed fully resolved on the title track from Billy Cobham's Total Eclipse album (16/44.1 FLAC).
Bear in mind that while the NAD C 399 and other competitors that use class-D amplification, such as Cambridge Audio's Evo 150 ($3,000), often favor linear sound that is clean, pristine and detailed, they also tend to lack the 40n's very appealing fullness and harmonic density. In particular, while the C 399 has its charms—its bass is slightly more extended and linear than the 40n's—it didn't muster the 40n's alluring midbass. That's not to say one approach is right and the other wrong—only that it will likely come down to a matter of personal preference.
To audition the Model 40n's ARC feature, I watched the 2017 World War II movie Dunkirk. Throughout the film, the sound of German bombs and artillery shells exploding on the water as allied troops scurried about on nearby boats was deep and gut-wrenching. And when fighter planes crossed over the screen, the sound of their propellers was huge in scale, detailed, and visceral. While some streaming amplifiers, including those that use class-D amplification, are rated to deliver more power than the 40n, I never felt as though more wattage was needed.
I didn't test the Model 40n's internal phono stage, but I spent time with its headphone output. All too often, these types of outputs are included to check a box on a list of features rather than sound good. Switching between the Apos Audio Caspian and Audeze LCD-1 headphones, the output was able to adequately drive both sets of cans, while producing sound that was listenable without being grating. Transparency, while not award winning, was good enough that I wasn't shaking my head as many such outputs make me do. The output's real strength was the way in which it placed voices and instruments, each in a distinct space surrounded by plenty of air. As is the case with most competing products, the 40n's headphone output doesn't deliver true audiophile sound but it will more than suffice for casual listeners.
Conclusion
Don't let the Model 40n's respect for the old-school components fool you. Combine the ability to tweak the incoming digital signal to improve performance and suit individual taste with a robust amplifier, beefy power supply, and brawny build, and you have a thoroughly modern beast of a streaming machine that will woo you with its large scale, harmonically dense sound. Add to that a reasonable price, and the Marantz Model 40n is easy to recommend.