Manchester by the Sea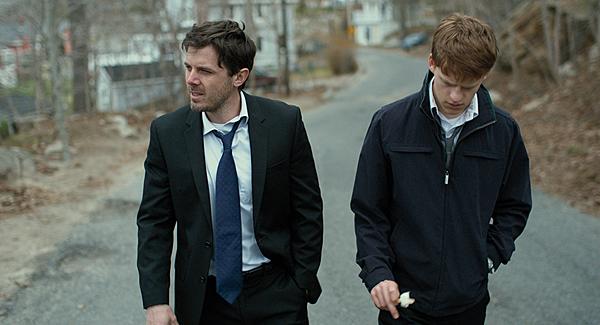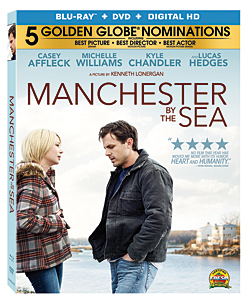 Indy-pic production values work well in this slice of everyday drama and the inevitable grief in people's lives. Contrast is good, and colors, like the wide range of blues of the boat and sea in emotionally bonding fishing trips, are subtle but solid. Whites in hospital sheets, doctors' coats, and the snow Lee shovels are bright, and the rare blacks are deep. Detail is generally good, the doctor's salt-and-pepper hair well differentiated and textiles having texture, though gloomy night scenes are softer and lack resolution.
The classical orchestral soundtrack stays mainly in the front channels, while the surrounds are kept in reserve for highly emotional moments such as a bar fight when a Ray Charles song flares up all around, or in the main sequence of revelation when the swoon-inducing Albinoni's Adagio immerses beautifully. The naturalistic Boston-tinged overlapping dialogue is always clear, and cars' engines sound convincing.
A commentary—consisting of intermittent interview with Lonergan dealing with the evolution of characters and structure of past/present jumping—lacks much insight or information, as does the promotional featurette focusing on the acting. Only the six minutes of deleted scenes add to the experiencing of this already powerful film.
Blu-Ray
Studio: Lionsgate, 2016
Aspect Ratio: 1.85:1
Audio: DTS-HD Master Audio 5.1
Length: 135 mins.
MPAA Rating: R
Director: Kenneth Lonergan
Starring: Casey Affleck, Michelle Williams, Lucas Hedges
Writer-director Kenneth Lonergan's Manchester by the Sea is a story of ordinary folk who are sideswiped by life. Lee is a stiff working as a janitor-handyman in Boston, his inexpressive, glum detachment occasionally interrupted by outbursts of anger or self-punishing bar fighting. After his brother, Joe, dies due to a heart condition, Lee travels back to his hometown of Manchester to break the news to Joe's teenage son, Patrick. While awaiting the funeral—which cannot take place until the ground thaws in the spring enough to allow the grave to be dug—Lee discovers that Joe has named him as Patrick's legal guardian. It's only very gradually, through frequent unsignaled flashbacks that we discover the events that led to Lee's present state. And it's only through his relationship with his nephew that there's hope that Lee might not remain as imprisoned and frozen as the body of his brother lying in refrigerated storage. Although bleak at times, the droll humor of the film's spot-on, painfully honest details in depiction of human behavior and speech keeps it from becoming too grim or maudlin. The film got six Academy Award nominations including Best Director and Best Picture, wining for Best Original Screenplay and Best Actor (Casey Affleck).