Making Tech History: 8K Video Replay Debuts Tonight at Levi's Stadium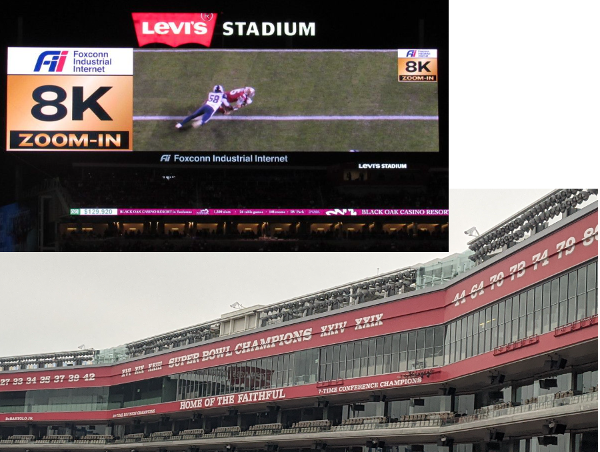 The San Francisco 49ers are intent on making tech history tonight when they meet the Green Bay Packers — even though no fans will be permitted to enter Levi's Stadium due to COVID-19 restrictions imposed by local (Santa Clara County) officials.
The team has collaborated with the technology company Foxconn Industrial Internet (Fii) to equip the stadium with a first-of-its kind 8K video replay system that provides full-field coverage and clear views of all goal lines and sidelines. When the system goes live tonight, Levi's Stadium will become the first sports and entertainment venue in the world with 8K video capabilities.
Hailed as a true technological feat, the replay system "is able to ingest the highest amounts of data for any existing stadium to produce video in 8K," according to team officials.
"Most replay systems break down signals to 3G inputs, which is a video standard for most [broadcast] equipment," explained 49ers Vice President of Game Day Production and Broadcast Operations Aron Kennedy. [3G stands for 3 gigabits per second or 3 Gbit/s.] "For example, a 4K 60p (frames per second or fps) signal is comprised of four 3G signals. With that in mind, our new replay system ingests 152 3G signals, which we believe is the highest amount of data for any existing stadium. If you break it down to file size, one second of 8K 120fps footage is approximately 6 gigabits (Gb). That said, the system is ingesting approximately 30 gigabits per second of video."
In addition to boasting "pixilation-free" zoom capabilities, the 49ers' 8K video replay system deploys five cameras: One to cover each sideline¸ one to cover each goal line, and a fifth "All-22" camera at the 50-yard line that captures a full-field view showing all 22 players on the field.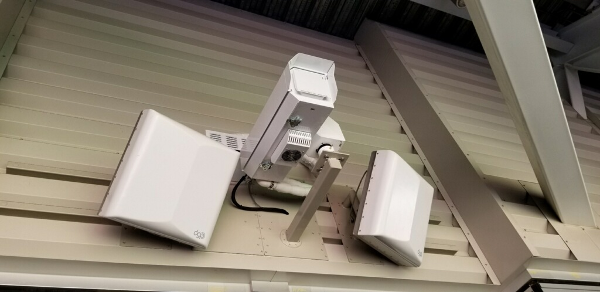 Camera feeds and data are sent to the stadium's scoreboard control room so the game-day production team can distribute the hi-res video to different areas of the stadium, including two massive 200 x 48-foot video boards, which Kennedy says will "make even the smallest on-field details crystal clear." Each board has a 13mm pixel pitch and is capable of delivering (up to) an astounding 9,500 nits of brightness. To give that spec some context, the brightest LCD TVs we've tested at Sound & Vision max out at around 2,000 nits.
Zeroing in on the system's optical and digital zoom capabilities, Kennedy added: "With 8K resolution, we can zoom in 400% digitally and still output an HD signal. We do have some optical zoom capabilities on our sideline cameras in order to split the field in half (50 yard line), but we are primarily using our digital pan-and-scan capabilities for the replay system. In addition, the cameras are static mounted and do not track the play on the field. This is done by digital zoom, pan and scan."
As if having no fans in the stadium to witness the debut of the new camera system isn't bad enough, the benefits this system will bring to fans once lockdown restrictions are loosened is, for now, confined to the in-stadium audience with one exception: The 49ers will share "8K highlights" with fans via social media sometime next week. "NFL guidelines don't allow us to share those on game days," Kennedy said.
"In the future we could provide our footage to the TV broadcast team, but we have not had those discussions with any of the NFL broadcast networks to date," he added. "The first step in that process would likely be to work with our preseason broadcast partner to feature the replay footage on our preseason telecasts."
Given the current — some would say draconian — pandemic restrictions, why break out the system now?
"We began preparations and testing over a year ago — long before the onset of the pandemic," Kennedy explained. "While we would certainly prefer to be able to showcase this technology directly to fans in the stands, our scheduled games this season still provide a great opportunity for our production team to put the system into play and continue to test its capabilities. That testing will only improve its utilization when fans can return."
"It is an amazing feeling to see a project as advanced as this through from the brainstorming stages to final testing and completion," Kennedy observed, noting that he expects the state-of-the-art replay system to "enhance the fan experience and revolutionize the way coaches and players capture and evaluate game time footage."
A spokesperson for Fii elaborated: "Football is a game of inches, but the closest officiating calls come down to millimeters. With an 8K camera, which has four times the image resolution of the human eye, fans, coaches, and referees will be able to better see a single blade of grass, some white and some green, and more accurately determine whether the football broke the goal line or if a wide receiver's toe was out of bounds. With examples like this, the possibilities for 8K camera technology throughout the sports entertainment industry will be endless."
Asked to pinpoint the most compelling benefit the new technology will bring to football fans, Kennedy responded: "In football, unlike any other sport, it is within the rules to replay a play onto the video boards. This can help our team win a game — whether it is by energizing 70,000 fans to scream at the top of their lungs, during a typical season, or by correcting a bad play call."
Development of the new five-camera video replay system followed a successful two-camera test in December 2019, which validated that the project was on track by providing proof of concept for the "capture-to-consumption plan." Additional tests and demos were completed at 49ers home games in October. "Insights from these demos have fueled the collaboration between the 49ers and Fii to continue the development of the necessary technological advancements that will make it easier and more cost-effective to transmit 8K compressed video now and in the future," Kennedy said.