The Making of All Things Must Pass Page 2
2nd Engineers were not assigned to a single engineer, but, if a choice was offered, one could get assigned to a particular project – say, a George Harrison album – something not every engineer wanted to do, necessarily. "A lot of these sessions finished at 9 or 10 a.m., and we'd be crawling out of the studio, as these people are arriving all fresh and smelling of after shave!" he laughs. "That's why not many engineers would work with The Beatles or George, cause they knew it was gonna be a 24 hour session, day after day. A lot of people couldn't handle it. But me, being 20 years old and all keen, I was, like, "I'll do it. I'll do it. I'll stay up all night!"
Leckie remains the sole member of the engineering staff to have worked on solo albums for all four Beatles in 1970, having operated for a couple of morning sessions each for Paul's McCartney and Ringo's Sentimental Journey albums, and, later in the year, as tape op once again for McDonald on John Lennon/Plastic Ono Band, recorded at the studio after completion of All Things Must Pass.
While George had previously played a number of songs for Spector at Friar Park, on Tuesday May 26 and Wednesday May 27, Harrison went to Abbey Road and recorded 30 simple demo recordings in Studio 3 of all of the songs which were candidates for recording. The first day's recording was with Klaus and Ringo and the second day alone, just George and his acoustic guitar. "Even during the demos, he was very calm and very slow, doing things carefully," Voormann remembers. "In comparison to John, who was very quick – 'Let's just get this thing done as quick as possible,'" he laughs.
"George always wanted to make it really nice. He put up a little altar, put his little Buddha in front, with some joss sticks [incense] and a nice candle, and made it all comfortable for us." The trio then went into the studio, "and bit by bit, he sat down and started playing. We didn't really know where the songs are going, so we hit a lot of wrong notes!" [The demos from each of those two days, complete with titles that were not otherwise recorded on the album, are included in the deluxe editions of the 50th anniversary reissue.]

Room Setup
The following day, on Thursday May 28, tracking began in earnest for the album in Studio 3, where the majority of recording would take place. Studio 3 was only occasionally used by The Beatles, recording most of their work in the much larger Studio 2. Unlike No. 2, the studio had a fully carpeted floor. "It was quite a dead room," Leckie notes. "The engineers hated it because it was just dead. There was no real room sound on it," something Spector reconciled with a tremendous amount of reverb on many of the tracks—something he was known for anyway.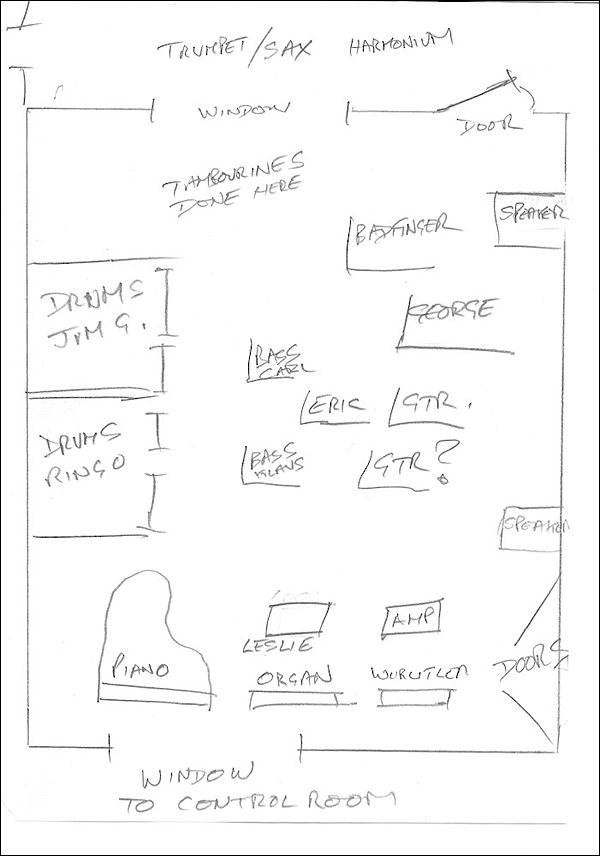 The studio was 31 ½ feet wide by 40 feet deep, with the control room on one of the short sides, its window facing out into the room. The entrance, looking out from the control room, was just to the right. Because of the construction of the historic building, there was no direct access from the studio to the control room, say, for playback, as there is today. One had to exit the studio door into a corridor and walk through the front reception area to access the control room – in fact, past the front door, where the legendary "Apple Scruffs" (the excited, loving Beatles fans), gathered in the studio parking lot, who would occasionally catch a glimpse of George or one of his famous bandmates.
Looking out from the control room window, along the left-hand wall, were the two drum kits – Ringo's first, about 10 feet from the window, and the second drummer's kit to Ringo's left, both facing the center of the room. And they were simple kits back then. "Two tom toms and that was it," Voormann states. "Maybe an extra cymbal. But no huge sets, no two bass drums or anything like that."
Ringo's kit was, in fact, the same one he had played on Abbey Road, and, before that, on the Get Back/ Let It Be sessions. "To this day, Ringo and I call it the 'Let It Be kit,'" says Starr's longtime drum tech, Jeff Chonis. According to Ringo drum historian Gary Astridge, the kit was Ludwig's Hollywood natural maple finish drum kit, which was made in March 1967. Starr took possession of the kit from London's Drum City on Sept. 11, 1968, while The Beatles were recording The Beatles (aka The White Album) – first used on "Glass Onion." It features two rack toms (8" and 9"), a 16" x 16" floor tom, a 14" x 22" bass drum, and, Ringo's favorite, a Ludwig Jazz Festival snare.
Voormann (and later, Carl Radle) was set up directly in front of Starr and the second drummer, respectively. Voormann still plays the 1963-4 Fender Precision bass (seen clearly when watching The Concert for Bangladesh film), which he acquired about 1965-6 from another player. Its unique finish has always been a mystery to fans. "It was originally Sunburst, but, when it was psychedelic time, I scraped it off and painted it with all these flames," he explains. "And then, I hated that, so I scraped it back off. But I scraped it just roughly, because I couldn't stand it. And that's what you still see."
While, when playing live with Manfred Mann, he, like many bassists, had a big pile of amplifiers, for recording, he had a classic Ampeg B-15, with its single 15" speaker. "I used that amp because all the Stax people and Atlantic people and James Jamerson all used that amplifier. You'd see these Motown people play, and all they have is the tiny little amp, and that's it, with a microphone in front of it. They didn't need all that bullshit, just that wonderful little amp."
He purchased it, in London, right after leaving Manfred Mann in 1969, in time for the recording of John's "Cold Turkey," because, "I needed an amp, because the other one got stolen – from Apple!" he says, recalling a famous scene from The Rutles' All You Need Is Cash Beatles parody, where Harrison, in a cameo in a scene as a reporter, interviews someone, as a parade of people behind them steal item after item from the Rutles' office building – as was unfortunately commonplace at Apple. "That's exactly what happened to my amp."
Leckie notes that, while two drummers and two bassists were often playing together during tracking, we don't necessarily hear both on every song. "Spector may have favored one or the other on a particular track, but two basses can get muddy, with frequencies swimming around the room. And the same for drums – two snares sound good together, but two bass drums don't work unless they're spot on. Spector might have told Phil, 'What's going on with the bass? Turn Carl down' or 'Turn Klaus down.' Those things happen."
George and Eric's guitar amps were essentially in the middle of the room. Clapton was keen to play through a diminutive 5-watt Fender Champ Amp, with either an 8" or 10" speaker. "It was a time when they were asking, 'Are we gonna use that little Champ Amp, or are we gonna take a proper amplifier?" Voormann recalls. "Because they were all crazy about those Champ Amps. Eric came up with this, and everybody went, 'Oh, yeah, Champ Amp!'"
They were neither lost on Badfinger, whose players contributed acoustic guitars to the sessions. "That's what everybody used there," recalls the group's Joey Molland. "After those sessions, we all went out and bought Champs. And that's what we made our records with after that."
Unlike today, where bands have a huge arsenal of guitars in the studio, Clapton and Harrison kept just their favorite one or two guitars handy. "For George, it was [Fender] Stratocaster time," says Voormann. And Eric played a [Gibson] Les Paul," sometimes switching to a Strat, as well. He also brought with him a new guitar he'd had made, a large hollow body replica of a guitar popularized by Big Bill Broonzy. "One day," says Molland, "he brought this guitar in, and he was showing it to all of us. He was really proud of that guitar – 'I just got this!'"
For acoustic, Harrison played a Harptone – the same one he can be seen playing in The Concert for Bangladesh. "He was playing these all the time," says Klaus. "They're a very loud, hard rhythm guitar, compared to Martins, which are more mellow."
Badfinger's first Apple LP, Magic Christian Music, had just come out in early January, following on the heels of its megahit single, "Come and Get It," released the previous month. The band had already begun working with Beatles road manager Mal Evans, producing the followup single "No Matter What" at De Lane Lea Studios, also in December. And in May, they received a call from Mal. "He said that George said, 'It would be good to use the Badfinger guys, bring 'em. Ask them if they want come down and play some acoustics for me,'" Molland recalls. "Phil Spector was producing it, and they wanted a bunch of acoustics – he didn't just want one."
The group worked a good many sessions over about a 2½ week period (they were absent on June 8 for a Capitol Records convention in Honolulu, and began a European tour on June 20). "George was with his pals there – Eric, Klaus, Billy and Ringo. We were a young band with Apple. And we were just in awe – 'Look, there's Eric Clapton!'" Notes Leckie, "They were my age – everyone else was 26, 27, 28. So we locked onto each other a lot more. They were a lot friendlier than Eric and the others – and they just wanted to do something."
The studio had set up a four-sided rolling isolation booth, so-called "BBC screens – plywood panels, painted blue, with wheels on the bottom and Perspex (clear plastic) at the top –to help keep the sound of other instruments out of their single Neumann U87 microphone, which was recording them, George's guitar amp being just ahead of them. The three guitar-playing members were set up around the Neumann, facing mostly towards Ringo and only slightly outward: Pete Ham on the end, Tom Evans in the middle, and Molland to his left. Ham played a Martin D28, Evans a Martin D41 and Molland a Gibson J-50. (Drummer Mike Gibbins was also present, occasionally playing percussion, alongside Ringo).
At the start of a new song, Harrison would come over with his own acoustic, and the three players would come out, and George would teach them the song. "He'd just sit down and run through the song with us, teach us the chords. My most vivid memory is him showing us 'Beware of Darkness," Molland says. "He'd say, 'It goes like this – the intro is this, here's the chorus.' And we'd run it down with him, grab the chords quick." There was one other instruction: "He wanted us to keep it simple. He said, specifically, 'If you can, and if you would, just play straight chords. Don't do any jig-a-jinks.'" And, on many tracks, Badfinger's solid backing forms the core of the rhythm track.
The keyboards were set up directly in front of the control room window, with the players' backs to the window. There was a 7-foot Steinway grand piano to the left, closest to Ringo, a Hammond organ (and its Leslie 122 speaker cabinet) in the center, and a Wurlitzer electric piano and amp to the right. Absent, Leckie notes, was the "Mrs. Mills" upright piano, used by Paul two years earlier on "Lady Madonna" and, later in 1970, by John on his track, "God," accompanied by Preston on that very same grand.
The studio's Hammond was an L-100, which had two staged keyboards, control tabs, 1 ½ octave bass pedals, as well as a power amp, speakers, and a built-in reverb amp, which Whitlock says he "tweaked it up to make it sound the way I wanted it to sound." Notes Leckie, "It's the same model Keith Emerson used. He would bang it around, shake it, to crash the reverb spring," an effect he notes was also done here on one song.
The horn players – Bobby Keys and Jim Price – like Badfinger, also required isolation, and were set up in a room at the back of the studio, known as Room 43, which was Studio 3's original control room. Playing arrangements created by Price, Leckie states, "They always played live with the rest of the band on basic tracking," with only occasional overdubs added, typically immediately after a master take was selected (as on songs like "What Is Life"). "They were part of the band." The studio's harmonium was also set up and recorded in Room 43.