Mad Max Trilogy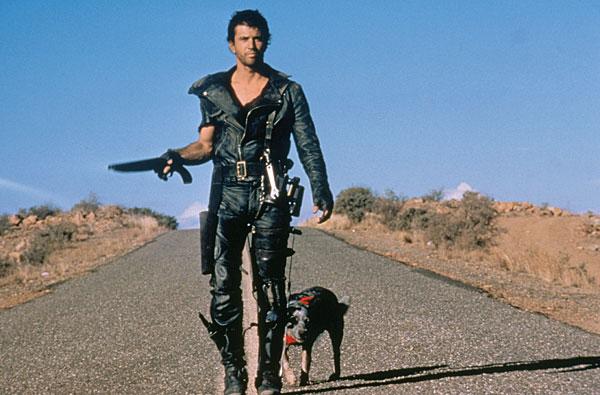 It's been 34 years since the world was introduced to Max Rockatansky, a good cop in a bad world. For reasons not explained in 1979's Mad Max, society "a few years from now" is crumbling, and the law is losing the battle to keep it safe from violent gangs. When Max (a very young Mel Gibson) runs down a murderer with vengeful chums, his contented life is torn asunder, sending him off into the wasteland with a bleak, uncertain future.
Directed and co-written by George Miller, Mad Max is a love letter to fast cars, and more specifically car chases, spectacularly staged despite a sub-$1M production budget. It set a new box office record in its native Australia and was a hit around the world—except in the United States, partly because of the distributor's decision to dub everyone with flat American accents.
And so the marketing began afresh for 1981's The Road Warrior, since no one here would know what Mad Max 2 was a sequel to. (Elsewhere, the movie was successfully billed as Mad Max 2, and that's how it is titled on this disc.) With a princely $2M to spend this time, Miller gave Max a darker, more extreme story line. The decay of civilization is finally laid bare in the most brilliant opening narration ever, a disturbing tale of rival nations, dwindling oil, riots, fear, and cannibalism.
Max has become quite proficient as a lone scavenger of the badlands, behind the wheel of the last of the V8 Interceptors. He's a shell of a man who will do almost anything for even a few drops of precious gasoline, but when he's taken in by a kibbutz inhabiting an abandoned oil refinery, he finds out once and for all whether he has a shred of humanity left. Free of extraneous dialogue and magnificently paced from start to finish, it's that rarest of progenies that surpasses its distinguished parent, a masterpiece of visual storytelling and unexcelled action filmmaking. Fans must give thanks to the team of audacious and uncannily capable stuntmen who performed maneuvers the likes of which will probably never be seen again.
As happens, the producers went one sequel too far. Amid '80s excess and the domination of MTV, Mad Max Beyond Thunderdome saw a big star (Tina Turner) and big bucks ($12M) for the first time in the series, but by now Miller's interest was clearly waning. He shared the director's chair and concocted a weird plot involving spear-toting moppets, foreshadowing his later predilection for family-centric fare (Lorenzo's Oil, Babe: Pig in the City, Happy Feet). There is one genuine surprise, but the action was nothing we hadn't seen before, and the attempted humor betrayed the tone of the first two Maxes.
One thing that the money did buy was the biggest, best soundtrack of the three. All are presented in DTS-HD Master Audio 5.1, but each exploits the lossless multichannel format differently. Thunderdome offers the largest crowds, the most elaborate and varied environments, along with expansive wind and subtle echoes, fleshed out with effective surrounds and ample bass. The Road Warrior—reportedly the first Australian movie in Dolby Stereo—packs some fine rumble in the big engines, but I would have liked more kick in the explosions. Clarity is excellent, and the surrounds are well utilized. Mad Max is noticeably, understandably the most constrained, the most timid and the most bass deficient. But I've never heard it sound this good.
Max was the first film shot in Australia using anamorphic lenses, and the 2.4:1 frame (common to the trilogy) has been painstakingly crafted with a pleasing transparency that plays well in HD, right down to the fingerprint on the bridge of Max's sunglasses and specks of dirt on a window. Grain is an issue at times, but the filmic warmth is inviting. Most disappointing on The Road Warrior are the shadows, so deftly orchestrated by director of photography Dean Semler (who joins Miller on the audio commentary for this disc), now harsh and all-encompassing. And while Thunderdome is arguably the best-looking of the bunch, it can be too dark and grainy, with those same oppressive blacks.
The extras are 100 percent recycled, and some goodies have been dropped on the way to Blu-ray, but Max still offers a crew/historian commentary and retrospective featurette, while Road Warrior also includes an enthusiastic introduction by critic Leonard Maltin. Number 2 stands alone, but this giftable tin takes Max to the max with the complete saga—until Fury Road drops next year.
Mad Max
Studio: Warner Bros./MGM, 1979
Aspect Ratio: 2.40:1
Audio Format: DTS-HD Master Audio 5.1
Length: 93 mins.
MPAA Rating: R
Director: George Miller
Starring: Mel Gibson, Joanne Samuel, Hugh Keays-Byrne
The Road Warrior
Studio: Warner Bros./MGM, 1981
Aspect Ratio: 2.40:1
Audio Format: DTS-HD Master Audio 5.1
Length: 95 mins.
MPAA Rating: R
Director: George Miller
Starring: Mel Gibson, Bruce Spence, Vernon Wells
Mad Max Beyond Thunderdome
Studio: Warner Bros./MGM, 1985
Aspect Ratio: 2.40:1
Audio Format: DTS-HD Master Audio 5.1
Length: 107 mins.
MPAA Rating: PG-13
Directors: George Miller, George Ogilvie
Starring: Mel Gibson, Tina Turner, Angelo Rossitto
LATEST VIDEO