Logitech Squeezebox Touch Media Server
Price:
$300
At A Glance: Elegant touch-sensitive screen • Decodes multiple audio formats • Internet radio support • Integrates with Facebook and Flickr
Remember the days when you stacked hundreds, if not thousands, of CDs into towers or bookshelves so you could have your entire music collection at your fingertips? The CD player evolved from a single tray to a multi-disc changer that allowed up to 400 discs per unit, but you still had to find a place for all of those pesky cases. In 1999, the music world turned upside down when 18-year-old Shawn Fanning created Napster, and a new way of music delivery was born. Millions of people around the world digitized their music into MP3s, which compromised quality in favor of convenience. Fortunately, as computing power increased and storage became cheaper, audiophiles could store their digital music in a lossless format (FLAC, WMA Lossless, Apple Lossless, etc.) in order to preserve the integrity of the original recording. But with all of this music digitized, how do you listen to it in your home theater?
While many AVRs, set-top boxes, and Blu-ray players offer music streaming over a home network or from an Internet-based source such as Pandora, they all have one downfall—you have to use your display to access your audio content. This is especially troublesome if your home theater is built around front projection. It's not the most convenient thing to fire up for quick access to morning traffic, let alone playing a few tunes. You could rely on an aftermarket dock for a portable media player that connects to a home theater system, but what happens if someone borrows your iPod or you left it on your desk at work? The problem with a portable music player is that it's—well—portable. Is there a simpler way to stream music into your main listening room or throughout your home? Logitech's Squeezebox Touch is the $300 answer. It's a user-friendly device that's so simple, almost anyone can use it.
Once Upon a Time
Back in 2006, Logitech purchased a small California company called Slim Devices, which had released the original Squeezebox. The original device was successful, but it lacked many resources that the larger company could provide. Needless to say, the purchase has worked out great for both Logitech and consumers. In addition to the original Squeezebox, Logitech has released a wide variety of networked music players, including the Boom, Duet, Radio, and more.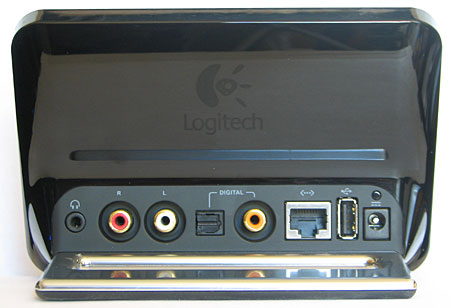 The Squeezebox Touch takes everything that was great about the original and improves it in many ways. The earlier units had text-only displays, but the new Squeezebox Touch sports a 4.3-inch 24-bit color LCD capacitive touchscreen—hence the name Squeezebox Touch—with a resolution of 480 by 272. The screen is encased in a glossy black plastic frame (cleaning cloth included) that's right at home on top of an A/V rack. Audio outputs include stereo RCA, a headphone jack, optical digital, and coaxial digital. Additional connections include a USB host connector and an SD card slot for accessing music and photos as well as an Ethernet plug. If you don't have an Ethernet drop at your A/V rack, you don't need to call an electrician. The Squeezebox Touch includes 802.11b/g Wi-Fi networking.
The Basics
Like all of the Squeezebox products, the Squeezebox Touch is meant to pull music from any computer in your home running the Squeezebox Server software. The proprietary system runs on Windows, Mac OS X, Linux, and even Ready NAS (Network Attached Storage). It doesn't rely upon DLNA or UPnP standards. Once installed, it searches your hard drive (or drives) and finds your stored music. If you use iTunes, don't fret. You can easily integrate your music and playlists with the Squeezebox Touch. In addition to your own library, the software can access a seemingly unlimited supply of content from the Internet. There are music services such as Pandora, Rhapsody, Slacker, and Sirius Internet Radio. You can also connect with virtually any radio station around the globe that has a presence on the Web.
The Squeezebox Touch can decode a wide variety of audio formats, including MP3, FLAC, WAV, AIFF, WMA (standard and Lossless), Apple Lossless, and more. I've been using the Squeezebox Touch for a few months, and it's played everything I've sent through it.
I'm not a social media hound by any means, but if you're hooked on Facebook, the Squeezebox Touch can interact with your account. It lets you share your music interests with family and friends and, if you so desire, connect with new people with similar music interests. That sounds like an invasion of privacy to me, but if you want to share every detail of your life, who am I to judge?
If you have a Flickr account, you can use your online photos to customize your own slide show on the Squeezebox Touch or access photos from family and friends. If you prefer to access local content, then you can use the SD card slot to store photos you want to display.