"Life on Mars: Series 1" DVD Review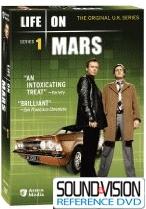 ---
Movie ••••½ Picture ••••½ Sound •••• Extras ••••½
Is he or isn't he? That's the question at the heart of Series 1 (2006-07) of the highly stylized British cop drama Life on Mars (later adapted for a 17-episode U.S. run). Is Detective Sam Tyler (John Simm) mad, bad, or dangerous to know - which is to say, is he delusional, disjointed, or actually in a coma imaging Manchester circa 1973? Regardless, the cerebral, modern-minded Tyler frequently butts heads with his boss, the deliciously primal Detective Chief Inspector Gene Hunt (Philip Glenister), who proves in Episode 6 why one must always "trust the Gene Genie."
The visual palette of this four-DVD set morphs from lush blues and greens to earthy browns and reds as soon as Tyler shifts decades. White cigarette smoke, dust, and haze waft upward and to the right during each interrogation in the Lost and Found room. The jagged postage-stamp design and red logos on the cover of John Mayall's of-the-era Moving On LP are quite defined during a record-store visit in Episode 1. In the Dolby Digital 5.1 mix, the surround channels are most ominously employed for the recurring, echoing blips of a hospital respirator.
Commentaries discuss all eight episodes, while four featurettes dissect creative detail and decision-making. Whatever the reason for Tyler's time and space oddity (to be resolved in Series 2, coming to DVD in November), Mars is a planet profound.