LG Showcases 2018 OLED & Super UHD TVs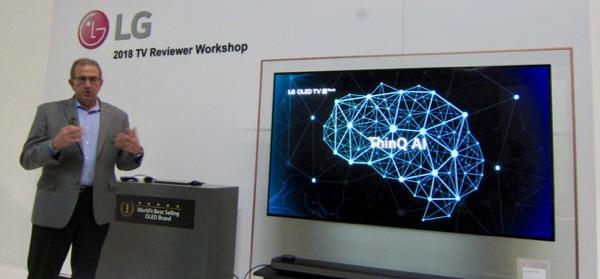 LG held a product launch and reviewer workshop in Los Angeles last week, and I was there for the fun.
The event was held at a building that once housed the old Max Sennett Studios back in the silent film era, and part of the original structure remains. Before the formal event began we were treated to a tour of the building's basement — a hoarder's paradise. Stored there was a combination of potentially valuable collectibles (there's no telling what people will pay for these days), but mostly dusty "junque" in no discernable order. With the lights down it could be used as the set for a horror show. In fact, it actually has been.
The formal part of the presentation featured a briefing on LG's OLED and Super UHDTVs (the latter are LG's LCD/LED designs). The company's smart TV features, standard on both flavors of sets, have been significantly expanded and dubbed, by LG, ThinQ — a combination of webOS and AI. The set can now respond to a wide range of voice requests, including searching for and playing content, adjusting the set's controls, managing household schedules, accessing information from the internet including weather forecasts, and controlling compatible smart home devices such as lighting and appliances. It won't yet suggest less enlightened choices as true Artificial Intelligence might, but that's probably for the better. (Dave: "Play Transformers."….AI: "Transformers clanks, Dave. Might I suggest instead Masterpiece Theater's new documentary on quilting bees in the 18th century?).
Seriously, though, these newly refined "AI ThinQ" capabilities look to be genuinely useful. An all-too- brief demo suggested that it works better than my previous experiences with voice-activated "smart TV" on sets from all manufacturers, not just LG's. We'll have a closer look when one of the new sets is in hand for a review.
The new Super UHDTVs carry forward LG's Nano-Cell technology from last year, their IPS LCD panels offering impressively specified off-axis viewing angles. And all but one of the three 2018 Super UHDTV lines (the least expensive SK8000) employ full array local dimming instead of last year's edge-lit only designs. They also incorporate LG's new Alpha7 Intelligent Processor plus on-board Dolby Atmos audio. The latter isn't designed to compete with a full 7.1.4 Atmos setup using separate amps and speakers, but it should prove useful to the majority of buyers who won't ever go that far. LG is still the only manufacturer offering built-in Atmos capability. (The Atmos capability wasn't demoed at the event; the huge, high-ceilinged room wouldn't have been at all suitable for it).
OLED Steals the Show
LG's OLEDs, of course, remain the stars of the company's lineup. This year they include the new Alpha 9 Intelligent Processors across the full OLED range. As with the Super UHDTVs, all of the OLEDs offer the same limited (compared to a multi-speaker home audio setup) on-board Dolby Atmos, rather than last year's Harman Kardon-designed audio.
All of LG's sets (OLED and LCD/LED) are compatible with Dolby Vision, HDR10, and HLG high dynamic range (HDR). LG calls the latter two of these HDR10 Pro and HLG Pro. The "Pro" designations don't refer to new formats but rather stand for LG's enhancement that adds dynamic metadata to HDR 10 (which begins with static metadata) and HLG (which begins with no metadata). This is generated by the set's processor by analyzing the source scene-by-scene. (Dolby Vision, which carries its own dynamic metadata, doesn't use this feature.)
While compatible with Dolby Vision, HDR10, and HLG sources, LG's sets are not compatible with HDR 10+. But for this year, in the company's ongoing partnership with Technicolor, a feature called Advanced HDR by Technicolor has been added. The latter is not specifically a format, but appears to be a highly sophisticated way to generate HDR from an SDR base layer. We'll have more to say about this in the future, particularly after we have a chance to try it for ourselves. But it looked promising when we saw it in action in a late afternoon tour of the Technicolor headquarters in Hollywood — even if all in attendance agreed that "Advanced HDR by Technicolor" was a bit of a mouthful.
LG has also introduced, in association with SpectraCal, new workflows for the latter's CalMAN software offering automatic HDR and SDR calibration for all of LG's new OLED and Super UHDTV designs. This feature isn't designed for a set's owner, unless the latter has calibrating experience, access to the type of (still needed) calibration equipment that can cost more than the set itself, and is willing to pay CalMAN's licensing fee. But it certainly can speed up the calibration process while at the same time making those calibrations more accurate (a boon to trained calibrators who must, along with other adjustments, deal with LG's precise but tedious 20-step white balance controls). Unfortunately for owners of earlier LG OLEDs, this feature can be used only on 2018 (and presumably future) models.
For 2018, all of LG's OLEDs (in the four lines due for the US: C8, B8, W8, E8) will use the Alpha 9 processor except for the B8 (Alpha 7). Both the C8 and the W8 will be available in a 77-inch size; the others will be offered in 55- and 65-inch sizes only (except for the W8, the "Wallpaper" design with its large, separate soundbar, which will ship at 77- and 65-inches). Prices range from $15,000 for the 77-inch W8 (Picture on Wall) to $2,500 for the 55-inch C8. In the size most likely to be of interest to Sound & Vision readers, 65-inches, the MSRP's are $7,000 (W8), $4,500 (E8), and $3,500 (C8). For those who want bigger without digging deep for the pricey W7, the 77-inch C8 lists at $9,000. The prices for the B8s, which are limited to specific retailers, have yet to be announced.
Three Sides of Super UHDTV
LG's LCD/LED Super UHDTVs will arrive in three different lines (in the US: SK9500, SK9000, and SK8000). As noted earlier, all of them will use NanoCell technology with IPS panels and full array local dimming, except for the edge-lit SK8000s. The SK9500 will be available in 65-inches only ($2,700), the SK9000 at 65-inches ($2,200) and 55-inches ($1,600), and the SK8000 at 75-inches ($2,700), 65-inches ($2,000), 55-inches ($1,600), and 49-inches ($1,000). (You read correctly if you noticed that for 2018 LG doesn't have a 75-inch Super UHDTV with full array local dimming).
The afternoon of the event was dedicated to visits to Netflix and Technicolor, both of which have major facilities in the Hollywood area. The Netflix tour involved a walk around the lot (though all but one of the soundstages were closed to visitors) and (more interestingly, of several production rooms, each of them named after a Netflix production, such as Mute, Black Mirror, Altered Carbon, Stranger Things, and my personal favorite, Storage (the latter closed, for obvious reasons). We also visited two sound rooms, one using Martin Logan and Monoprice speakers to represent a home theater with good but modestly priced speakers, and a second where much of the sound mixing is done, featuring JBL 705 and 708 powered speakers.
The visit to Technicolor included a visit to a color bay where a colorist demonstrated some of the judgments that must be made, scene-by-scene, to achieve the program creator's intention. The equipment allows parts of the picture to be adjusted without affecting the rest of the image. It was clear that while playback of video programs should be done using well-established standards, production of that programming involves hundreds of creative decisions. But well-calibrated displays must be used at both ends to achieve the desired result. The colorist was using both a small pro monitor and a calibrated LG 55-inch OLED.
We also received an extended briefing on Technicolor's Advanced HDR by Technicolor, a new feature, also mentioned above, in LG's 2018 sets. My take on this (and the explanations were a bit convoluted, so I'm open to future clarifications, particularly when I get to spend time with one of the new LG sets) is that this is not a separate format but rather a means of achieving an HDR result from an SDR source, either in the set or on the production side. For the latter its most likely application could be with material generated on-the-fly such as sports. It also includes Technicolor's version of HDR tone mapping. Tone mapping (a way of retaining at least some top end information when a high-nit HDR source (on today's programming, generally at either 1000 or 4000 nits) is played back on today's displays that are rarely capable of more than 1500 nits but typically far less (and on OLEDs such as LG's, likely little more than 700 nits).