LG Demonstrates High Frame Rate 4K Broadcasting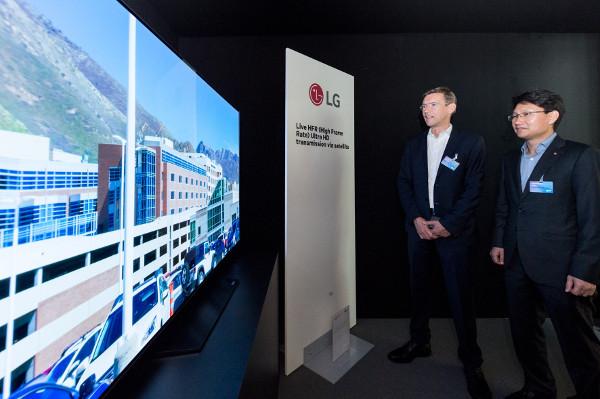 LG and European satellite operator SES demonstrated 4K High Frame Rate (HFR) broadcasting at the recent SES Industry Days conference in Luxembourg.
4K HFR content was transmitted live via an Astra satellite and displayed on an LG OLED TV equipped with prototype HFR software.
The new broadcast technology is said to significantly improve the quality of 4K Ultra HD delivery by increasing frame rate to 120 frames per second (FPS), the maximum for broadcast and more than twice that of typically broadcast content, making it particularly beneficial for fast-action sports. HFR is said to eliminate image degrading motion blur and judder to produce "highly fluid" images.
Plans are also underway for a second phase of the standard that will support high dynamic range (HDR) content and object-based audio such as Dolby Atmos.
"High Frame Rate on OLED TVs must be seen to be believed," said Sam Kim, senior vice president and head of TV product planning for LG Home Entertainment Company. "Watching 4K HFR content… is a great example of pushing the limits of current TV technologies."
"High Frame Rate will be an important step towards further enhancing the quality of Ultra HD satellite transmissions, in particular for sports and reality TV events," said Thomas Wrede, SES's vice president of new technology and standards.
WHERE TECHNOLOGY BECOMES ENTERTAINMENT