LG and Vizio Announce Smart TV Updates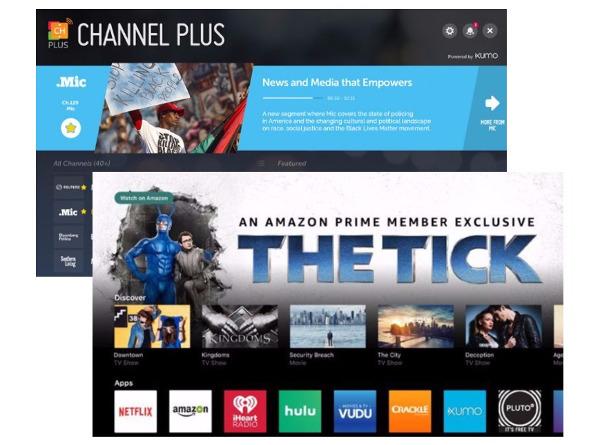 LG and Vizio today announced updates to their smart TV platforms.
LG has added Sling TV capability and the Channel Plus streaming service to its webOS 3.5-enabled 2017 OLED and Super UHD smart TVs, while Vizio plans to add Amazon Video to its recently updated SmartCast TV platform.
Sling TV, which has been available on webOS 3.0-enabled 2016 LG smart TVs since earlier this year, offers live and on-demand TV services and is the "number one live OTT service based on the number of OTT households as reported by comScore as of April 2017," LG said in a press release.
Sling TV combines two domestic streaming services to include more than 150 channels with content from Disney/ESPN, Fox, NBC, NFL Network, NBA TV, NHL Network, Pac-12 Networks, HBO, Showtime, Starz, AMC, A&E, Turner, Scripps, GSN, Hallmark, Viacom, EPIX, AXS, and Univision. Sling also offers a suite of standalone and add-on Spanish-language packages
LG said the Xumo-powered Channel Plus streaming service, which is integrated into 2016 and 2017 LG smart TVs running webOS 3.0 and 3.5, delivers live and on-demand streaming content through an interface that presents over-the-air broadcast channels alongside internet-based streaming channels. Channel Plus offerings include Bloomberg Politics, Funny Or Die, Just For Laughs, Baeble Music, PBS Digital Studios, Family Feud, People/Entertainment Weekly Network, Cheddar, Tastemade, HSN, Refinery29, and more.
The latest version of Vizio's SmartCast TV platform, now rolling out to 2017 P-Series and M-Series 4K/Ultra HD models, will include direct access to Amazon Video "later this summer." The new app will enable owners of these TVs to buy or rent thousands of movies, including popular licensed content, and subscribe to Prime Video for unlimited access to a multitude of titles including Amazon's original TV series and movies. Amazon will offer a free 30-day trial period to new customers who want to check out Prime Video.