LG 47LG60 LCD TV
A few months ago, a product manager and engineer from LG visited Grayscale Studio to demonstrate the company's new LG60 line of LCD TVs. They were most proud of the effort they had put into the grayscale controls, which let a trained technician calibrate this critical aspect of a TV's performance.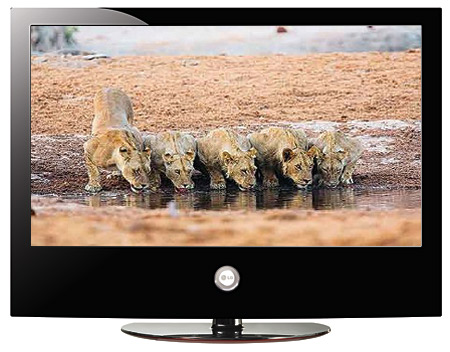 For those who don't know this term, "grayscale" refers to the TV's ability to reproduce neutral shades of gray from black to white. It's the "canvas" on which colors are overlaid—if this canvas is biased toward red, green, or blue, the colors in the image will also be biased.
It took a while, but I finally got a review sample of the 47LG60, the 47-inch model in the LG60 line. Did it meet my visitors' goal of a perfect grayscale? In spades...
Features
The first thing you notice about the LG60 line is its distinctive cabinet. The back is finished in bright red, though I'm not quite sure why, since in most cases, the set will be up against—or mounted on—a wall. The black front bezel is fairly large, especially the part below the screen, which is huge by today's standards. It's also very shiny, and reflections can be distracting. The top surface of the stand is essentially a silver mirror, exacerbating the problem.
Like most upscale LCD TVs, this one refreshes the screen at 120Hz, twice the rate of most TVs. In addition, it can create new frames between those in the video signal by a process called interpolation, in which moving objects are placed where they should be in the new frames according to their motion. This function, which LG calls TruMotion, can be disabled, in which case each frame in a 60Hz signal is displayed twice and each frame in a 24Hz signal is displayed five times.
Frame interpolation is intended to overcome motion blur, which is endemic to LCD flat panels. However, it can also add obvious artifacts in certain shots, and some of my colleagues, such as UAV reviewer Tom Norton, don't like what it does to the "look" of film-based material, claiming that frame interpolation makes movies look more like video than film. Any such effect doesn't bother me in the least—in fact, I much prefer the sharper image.
During their demo, the LG reps concentrated on one feature that is very rare—a 10-point grayscale-calibration system. Most TVs offer a 2-point system, which lets a trained technician calibrate the low and high ends of the brightness range. But this is often insufficient to completely dial in the grayscale, which can easily deviate from the standard at brightness levels other than the two that were calibrated.
With a 10-point system such as the one in the LG60, a technician can calibrate 10 different brightness levels independently. This takes longer than a 2-point system, but the end result is a perfect grayscale (see Measurements). Interestingly, the LG60 offers both types of calibration systems. As always, don't attempt to calibrate this or any TV without the requisite skill and equipment—it's a job best left to professionals.
Another important feature is a color-management system (CMS), which lets a trained tech adjust the primary and secondary colors to more closely match where they are supposed to be. The tint and saturation of each color can be altered, but there is no intensity control for each color as there should be.
Many upscale TVs, including the LG60, offer ISF (Imaging Science Foundation) Day and Night modes. These allow a tech to lock in the calibration settings for different viewing conditions—one for daytime with ambient light and one for nighttime with no room light—so that they can't be inadvertently messed up.
LG touts the Intelligent Sensor feature, which detects the amount of ambient light and automatically adjusts several picture parameters, such as contrast, brightness, color, sharpness, and white balance. I'm not a fan of such automatic picture adjustments, preferring to optimize the picture settings and keep them there.
A side-mounted USB port lets you attach a storage device and display digital photos and play music files. Sharing photos in this way is a great feature, and you can play music stored on the same device to accompany a slideshow, but why you'd otherwise want to listen to music on any TV's sound system is beyond me.
The HDMI inputs are version 1.3, which means the TV can support Deep Color (higher bit depth for smoother gradations) and CEC (Consumer Electronics Control), which LG calls SimpLink. Interestingly, the product literature does not specify support for xvYCC, the expanded color gamut allowed by HDMI 1.3. Not that I'm complaining—no commercial content is produced using Deep Color or xvYCC, and I don't expect that to change any time soon, so these features are essentially useless.