Lexicon RV-8 A/V Receiver
That last cell phone you bought—the one with the nearly telephone book-sized instruction manual—did you take the time to read through the tome completely, learning every function and programming feature before using it to actually make phone calls? Products are becoming so over-engineered and laden with features and functions, most of us merely skim the surface of the ones we buy, often remaining content with just getting the thing to actually function as intended.
Lexicon's RV-8 is a literal monument to home theater receiver performance and functionality. It's also one of those products that could take up a week's worth of your time (or more), should you wish to take advantage of and optimize every one of its seemingly endless catalog of features and functions. The spiral-bound 8.5x11-inch instruction manual—hundreds of pages, all of them in English—bears witness to the possibilities. The manual is available from Lexicon's website, but it's so big that Lexicon recommends that you download it only if you have high-speed Internet access.
Despite the manual's length, however, Lexicon has done an outstanding job of organization, description, and broken down sections, plain-English prose, and diagrammatic clarity. There's even an index, which is an obvious necessity for an instruction manual, but which many manufacturers simply omit.
But before I get to the details, I've first got to answer what I'm certain is your main question if I have any chance of keeping you interested in what this $7000 behemoth can do: How does it sound? A receiver—or a pre-pro for that matter—can have the functionality of a 747, but if it doesn't sound good, it just won't fly.
My reference is the very fine sounding Integra DTR 9.1, and I'm here to tell you the Lexicon stomps all over it. At more than twice the price, it had better, but when I compared the RV-8 to Linn's superb-sounding Kisto pre-pro combined with a pair of Linn 5125 5-channel amplifiers (the Kisto pre-pro alone costs more than the RV-8), the RV-8 performed at least as well sonically, and the RV-8's functionality and configurability far surpass that of the Kisto, though at the expense of the Kisto's elegant simplicity and ease of use.
Hopefully, that sneak peak will keep your eyes from glazing, or rolling back in your head as we get to. . .
What can't the RV-8 do? Not much!
The RV-8 is an 8-channel, 3-zone, THX Ultra2-certified A/V receiver with 7 channels of 140Wpc amplification. The processor can decode all the usual formats (Dolby Digital, Dolby Surround EX, Dolby Pro Logic and Pro Logic II/IIx, DTS 96/24, DTS Neo:6, DTS-ES, and THX Surround EX). In addition, the receiver offers the most recent iteration of Lexicon's exclusive Logic7, which creates a 7.1-channel soundfield from 2-, 5.1-, and 6.1-channel sources. It also includes a programmable AM/FM 40-preset tuner and a phono stage for high-output cartridges.
Two floating-point Hammerhead DSP engines provide most of the receiver's processing power, including Logic7, bass and dialog enhancement, bass management and crossovers, Auto Azimuth (used to correct 2-channel source timing and level imbalances when expanded to multichannel), and all audio control—at 24-bit resolution and up to 96kHz sampling rates. A third DSP engine is reserved for multichannel compressed audio (DD, DTS) decoding.
A/D converters (24-bit, 96kHz resolution) can be used to digitize 2-channel analog sources and the two sets of 5.1-channel analog inputs. The user can also configure the RV-8 to bypass digital conversion and further processing with analog sources. Digital audio inputs are processed with a two-phase PLL (phase lock loop) circuit designed for low-jitter performance and high-jitter rejection of incoming digital audio signals.
The RV-8's "broadcast-quality" video switching is claimed to pass signals, including HDTV delivered via component or RGB analog, "without alteration or degradation." The composite and S-video inputs can also upconvert NTSC, PAL, and SECAM video to interlaced component video.
The RV-8 offers a full palette of configurable audio/video inputs. Two RS-232 ports and two trigger controls are available for custom installation, and the unit's operating software can be upgraded in flash memory. For now, the RV-8 does not offer HDMI or DVI upconversion or switching, DSP-driven room correction (as found on a number of new products, including Lexicon's own MC-12 Digital Controller), or a microphone-based auto-calibration feature. But with two microphone inputs, an internal expansion slot, and one of those RS-232 ports reserved "for future developments," I am confident that an upgrade path exists to prevent obsolescence.
Functionality and Additional Features
The above description barely scratches the surface of what the RV-8 can do. Mercifully, for such a versatile receiver, the RV-8's rear panel is uncluttered, easy to access and well marked. The speaker terminals accept bare wire, banana plugs, and spade lugs. Inputs and outputs include a full set of preamp outs should you wish to use an external amplifier or augment the internal amps with additional power (biamping, for instance).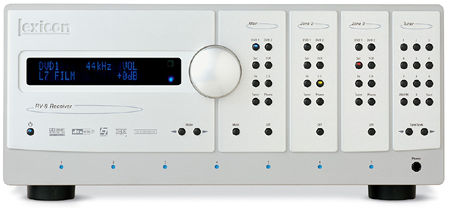 P> The RV-8's front façade is a dramatic, three-dimensional polished-aluminum playground of buttons, set off by a large volume control and an easy-to-read, uncluttered, fluorescent display. The buttons are divided into four groups: main, tuner, and two remote zones, with each zone offering identical input-selection buttons and the tuner array allowing for numerical preset selection and up/down tune/seek. A Mode button lets you scroll through the many listening options. The display indicates input, listening mode, source, and volume level in dB; when output levels have been properly calibrated, 0 dB equals the THX reference level of 75dB.
Most of the time, of course, you'll use the remote. It's one of the better "off the shelf" LCD-equipped units, custom configured and modified by Lexicon. But no matter how good the remote and the programming, with this level of functionality and programmability, menus must be nested, buttons are multi-function, and confusion inevitably ensues. So complex are the menu operations, the manual provides a Command Matrix grid describing the button functionality, depending upon which "command bank" is active. Beam me up, Scotty.
Quite possibly, you will find it necessary to refer to this Command Matrix for as long as you own the RV-8. It all depends upon how much playing you want to do within the operating system and how much system functionality you wish to futz with regularly. I ended up Xeroxing these grids—ten pages worth—and keeping them close at hand. Considering the many options, the onscreen menu system is laid out in a remarkably logical and easy-to-negotiate manner, especially if you've had some experience with other systems. A positive-feel thumbpad, centrally located on the remote, aids in the menu access and selection process.
Setup
Most users—experienced or not—want to be led immediately through the setup process logically, step by step. The menu designer did an excellent job of arranging the setup menus in order of importance, while the manual writer chose to first show and briefly explain the vast array of options, including a positively frightening graphic showing each input's lengthy list of setup-configuration possibilities. The writer correctly and sensibly starts by telling you what the speaker setup menu does, but then, instead of running you through the actual process followed by each additional menu choice in turn, he or she refers you to a later page where the actual instructions are. This preliminary section, running about half the length of the entire setup portion of the manual, will give newbies glazed eyes and heart palpitations!