Lexicon debuts its first OEM car audio system
Yet another esteemed audio brand has found its way into the automotive market. In a press event staged Tuesday at Harman International headquarters in the Los Angeles suburb of Northridge, pro/consumer audio company Lexicon teamed up with its new partner Hyundai to introduce the new Discrete-Surround Audio System for the new 2009 Hyundai Genesis.
Lexicon's known for elite professional reverb units and ultra-expensive home theater surround-sound processors. To an automotive know-nothing like me, it came as a shock to find such a high-end audio brand mingling with a car brand I think of as low-end. But the Genesis is a real luxury ride; a fully loaded model costing more than $40,000.
Like the Mark Levinson system found in certain Lexus models, the Lexicon system is the creation of Harman's huge OEM car audio division, which is responsible for roughly 75% of the company's revenue. The differences between them are that the Lexicon system focuses more on surround sound. And each system was designed specifically for the car it inhabits.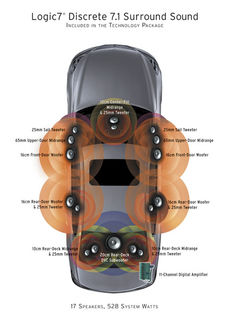 The Lexicon system incorporates 17 drivers mounted in seven different positions: front left, center, and right; side left and right; and rear left and right. To make the doors work as efficient speaker cabinets, Hyundai sealed them entirely. Lexicon further enhanced the acoustics by mounting the drivers in solid metal baffles, rather than the usual plastic. A six-disc DVD/CD changer and an AM/FM tuner provide the material.
There's a basic Lexicon system that doesn't have discrete surround sound, and a higher-end system with discrete surround that's part of a $4,000 technology package. The high-end package includes a navigation system, HD Radio, Bluetooth, an iPod dock (which lets you browse the iPod's tunes on the main screen), and other goodies.
The event gave the assembled journalists a chance to play with the audio systems in a few Genesises equipped with the full-boat Lexicon package. This may have been the most compelling car sound demo I've yet heard. The various channels were beautifully integrated, delivering a satisfying surround effect in both the front and back seats. The tonal balance sounded even and smooth, with none of the rough (or too-smooth) edges I expect from car audio. And the 8-inch rear subwoofer cranked out impressive impact when we played the Minority Report DVD.
As if we needed further convincing, classic rockers Jack Blades (Night Ranger, Damn Yankees) and Tommy Shaw (Styx, Damn Yankees) were on hand to confirm that the Lexicon system sounded like it was supposed to when we played cuts from their latest Shaw-Blades CD, Influence. —Brent Butterworth
LATEST VIDEO