Latest Software Reviews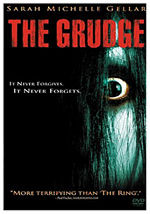 DVD: The Grudge—Columbia TriStar
Audio: 3
Video: 3
Extras: 3
Since I didn't see this in the theater, I'm gonna have to assume that the audio on my disc wasn't screwed up and that the noise that's supposed to be terrifying the characters in the movie (and by association the viewer) as it signals the "Grudge" is approaching really does sound a lot like "creaaaaakkkkkkkkkk." Yep, kind of like a door hinge that needs to be oiled. It's just, not exactly terror inducing, at all—not even in Dolby Digital 5.1 surround. Overall, though, this film does compensate for weird plot twists and creaking noises with a decent-sounding DVD. Check out chapter 23 for a good dose of the nice horror movie soundtrack interlaced with the sound of splashing and the cries of that creepy little boy.
The Grudge DVD's 1.85:1 aspect ratio has a pretty grayish, muted palette, which comes through well on this disc. For a splash of color, though, see chapter 27 with its trippy shots of The Grudge and her blood-red eyes descending on Sarah Michelle Gellar's unfortunate boyfriend.
Extras include two featurettes: "Under the Skin," which explains why we get scared when we watch horror movies (especially helpful here since you're not gonna get scared watching this DVD) and "A Powerful Rage: Behind The Grudge," a look at why they remade the original Japanese film for an American audience. There's also a commentary track with producer Sam Raimi, Gellar, and several other members of the cast. Gellar in particular sounds very bubbly and pumped about this flick in a way that makes me wonder, Did she actually see The Grudge?—Monica James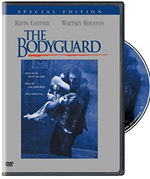 DVD: The Bodyguard Special Edition—Warner Brothers
Audio:3
Video:3
Extras:3
Sometimes the most memorable thing about a movie is its music. The Bodyguard is a prime example, and Warner Bros. celebrates its 13-year anniversary with a new two-disc Special Edition. Whitney Houston stars as Rachel Marron, a singing superstar whose life is threatened by a mysterious stalker. Frank Farmer (Kevin Costner), a former secret service agent, is hired as Rachel's reluctant bodyguard. The story starts off slow and in some ways is predictable, but the momentum eventually picks up and becomes an interesting whodunit to the very end. The romantic connection between Rachel and Frank isn't always convincing. Essentially, you are left with a moving story about a woman and the man who protects her.
The video quality, in a 1:85.1 presentation, is a bit disappointing. The colors are bright and the lighting is good overall, but there are also noticeable artifacts. The sound is superb, necessary for any film, and for one such as The Bodyguard, it is especially important. The subs and surrounds come alive as Houston's voice carries throughout the room.
The DVD runs short on special features. There are three to be exact: the original music video to "I Will Always Love You," the theatrical trailer, and the new documentary, "Memories of The Bodyguard"—a very nice addition.
You don't necessarily have to like romantic movies to appreciate The Bodyguard, which deserves a space in anyone's DVD library. And if that song doesn't get you in the end (yes, you know which one), you're gonna need that bigger box of chocolates for your loved one.—Aimee C. Giron
LATEST VIDEO