The Last Starfighter (Blu-ray)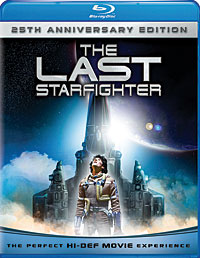 After attaining the highest score in the Starfighter video game, Earthling Alex Rogan (Lance Guest) is recruited by the mysterious Centauri (Robert Preston) to be a part of an elite legion of fighters defending the interstellar frontier against Xur and The Kodan Armada. Leaving behind his trailer-park home for outer space, Alex is the last hope for the galaxy.
The familiar storyline of the young hero who ventures off into the unknown has been done many times before, but there's something about this 1984 film that resonates with me. The computer-generated special effects aren't anything to write home about—although they were state of the art at the time. Regardless, the performances are memorable, especially Robert Preston's (his last role before his death) and Dan O'Herlihy as Grig.
Two years ago, The Last Starfighter was released on HD DVD with inconsistent results. Universal seems to have gone back to the drawing board and minted a new master for this 25th-anniversary edition. The black crush so prevalent in the HD DVD is thankfully absent, detail is a bit sharper—especially in Grig's face—and colors have a bit more punch.
The pedestrian DTS-HD Master Audio 5.1 soundtrack isn't that impressive, but this has more to do with the source, which is quite dated. Dialog is very flat and stale, and the sound effects are a little too loud and harsh. The surround speakers offer some minor ambience, but the overall track is very front-loaded.
The supplements are ported over from the HD DVD and include "Crossing the Frontier: Making of The Last Starfighter," an original documentary about the creation of the film and its special effects. Also included are an image gallery and feature commentary from director Nick Castle and production designer Ron Cobb. New to the Blu-ray is "Heroes of the Screen," a retrospective documentary with the cast and crew as they revisit the script, casting, and ground-breaking special effects (HD).
While this isn't the greatest science-fiction film ever released, it is quite entertaining and suitable for the entire family. My daughter got a kick out of the rudimentary CGI, and my son has dreams of being recruited into the Star League when he gets the highest score in one of his video games. Recommended for fans.
Release Date: August 4, 2009
Studio: Universal
Movie: 7/10
Picture: 8/10
Sound: 6/10

Review System
Source
Oppo BDP-83 Blu-ray player

Display
JVC DLA-RS1 projector
Stewart FireHawk screen (76.5" wide, 16:9)
Electronics
Onkyo Pro PR-SC885 pre/pro
Anthem PVA-7 power amplifier
Belkin PF60 power conditioner
Speakers
M&K S-150s (L, C, R)
M&K SS-150s (LS, RS, SBL, SBR)
SVS PC-Ultra subwoofer
Cables
Monoprice HDMI cables (source to pre/pro)
Best Deal analog-audio cables
PureLink HDC Fiber Optic HDMI Cable System (15 meters) from pre/pro to projector

Acoustical treatments from GIK Acoustics
LATEST VIDEO