The Last Stand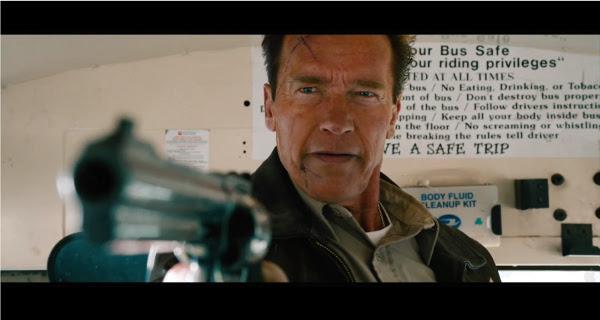 Surprisingly, yes. The Last Stand finds a ruthless drug kingpin on the run in a 200-mile-per-hour Corvette, heading straight for the Mexican border with a novel plan for crossing. It'll take a damned good lawman to stop him, and Arnold gives us a remarkably human small-town sheriff, a hardass with a past. The fabled action hero is unafraid to use his sagging face and strained voice to convey his vulnerability, while at other times he channels his vast experience as an unstoppable cinematic killing machine. These two men are on a collision course, but it won't end as either one of them expects. This is the first mainstream Hollywood effort from respected Korean director Kim Jee-Woon who has assembled an outstanding cast of supporting players (Forest Whitaker?) and even bit players (Harry Dean Stanton!) for this enjoyable adventure.
A pity that the many nighttime shots and other shadows which fill so much of the 2.4:1 frame are not more nuanced. The movie was shot digitally and an unfortunate strobing can be spotted in fast action, as during the high-speed pursuits, with some telltale video streaking of bright lights as well. Overall detail is good and the movie often exhibits a warm, inviting Southwestern palette.
Just about every caliber of ordnance fires, whizzes, booms and resonates here, with every sort of impact you can imagine. As such there is quite a bit of 7.1-channel activity—in DTS-HD Master Audio quality—with the surrounds further engaged for the sirens, helicopters, and so on. Cars also zip and vroom around the soundstage with real pep.
This was not a huge-budget production and so the extras are not elaborate, but a fine fit to the movie at hand. In addition to a well-rounded "making of," we're given a breakdown of the climactic cornfield car chase, a tour of the most interesting set, some personalized on-location fun with a couple of co-stars plus several deleted and extended scenes. This future-friendly package also includes a code for both iTunes and HDX UltraViolet digital copies.
Blu-ray
Studio: Lionsgate, 2013
Aspect Ratio: 2.40:1
Audio Format: DTS-HD Master Audio 7.1
Length: 107 mins.
MPAA Rating: R
Director: Kim Jee-Woon
Starring: Arnold Schwarzenegger, Forest Whitaker, Johnny Knoxville, Jaimie Alexander, Peter Stormare, Eduardo Noriega, Luis Guzmán
High on the list of stars needing a good movie under their belt we would find the beleaguered Mr. Schwarzenegger. His box office clout was waning, then he spent many years away from show business to run California. At one point his most promising comeback vehicle seemed to be a bizarre "Governator" cartoon, and then it all came crashing down amid a horrible public scandal. But could he still hold his own on the big screen if he wanted to?
LATEST VIDEO