The Last Song (Blu-ray)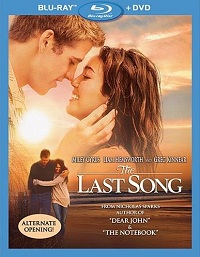 Banished by their mother (Kelly Preston) to spend the summer with their father (Greg Kinnear) in Georgia, Veronica (Miley Cyrus) and her younger brother Jonah (Bobby Coleman) get a chance to reconnect with him since their parents divorced a few years earlier. Before the split, Veronica would spend countless hours together at the piano and since he left she has refused to play despite receiving a scholarship offer to Julliard. Can a summer with her father rekindle her desire to play or will other circumstances alter her life?
Written by Nicholas Sparks (The Notebook), The Last Song certainly caters to a female audience but I can't say I didn't enjoy certain aspects of the production. The screenplay is very melodramatic with pitfalls lurking behind every corner, although I felt the performances by Kinnear as the loving father was genuine and young Coleman steals the show with some great one-liners. Cyrus has improved as an actress, but still has quite a ways to go to graduate to more adult productions.
Video Highlights

AVC/1080p encode on a BD-50 disc
Adequate detail
Contrast is a tad hot
Flesh tones tinged towards orange
Solid black levels
Audio Highlights

DTS-HD MA 5.1 soundtrack
Dialog is intelligible but occasionally strained
Great atmospheric ambience encompassing the room
Soundtrack has decent dynamics
Disney consistently delivers strong audio and video and this is no exception. The principal photography gets the blame for some of the inconsistencies found in the video encode and some the ADR work on exterior beachside scenes inhibit the audio.
Bonus Materials

Audio commentary from the director and producer
Alternate opening (HD)
Deleted scenes (HD)
Set Tour with Bobby Coleman (HD)
Miley Cyrus music video "When I Look at You" (HD)
DVD copy of the film.
My teenage daughter is the target demographic for this film and she's already has watched it twice in the short time I've had it. While the story isn't as good as Sparks' The Notebook, it isn't nearly as bad as other have portrayed it and is worth a rental in order to keep the wife happy.
Click here to email any comments or questions!
Release Date: August 17, 2010
Studio: Disney
Movie: 6/10
Picture: 8/10
Sound: 8/10

Review System
Source
Oppo BDP-83 Blu-ray player

Display
JVC DLA-RS1 projector
Stewart FireHawk screen (76.5" wide, 16:9)
Electronics
Onkyo Pro PR-SC885 pre/pro
Anthem PVA-7 power amplifier
Panamax M5400PM power conditioner
Speakers
M&K S-150s (L, C, R)
M&K SS-150s (LS, RS, SBL, SBR)
SVS PC-Ultra subwoofer
Cables
Monoprice HDMI cables (source to pre/pro)
Best Deal analog-audio cables
PureLink HDC Fiber Optic HDMI Cable System (15 meters) from pre/pro to projector

Acoustical treatments from GIK Acoustics