The Kings Speech (Blu-ray)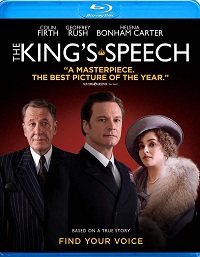 After the death of his father and the scandalous abdication of his brother King Edward VIII (Guy Pearce), Bertie (Colin Firth), who has suffered from a debilitating speech impediment all of his life, is suddenly crowned King George VI of England. With his country on the brink of war and in desperate need of a leader, his wife, Elizabeth (Helena Bonham Carter), arranges for her husband to see an eccentric speech therapist, Lionel Logue (Geoffrey Rush). After a rough start, the two delve into an unorthodox course of treatment and eventually forge a genuine friendship.
Taking home the Oscars for Best Picture, Best Actor (Firth), Best Director (Tom Hooper), and Best Original Screenplay (David Seidler), I had extremely high expectations of this film and they were mostly met. That being said, I don't think this was the best picture of 2010, my pick would be The Social Network, but I can see why the Academy chose this film due to the lavish sets, decadent costumes, and historically significant story.
Video Highlights

AVC/1080p encode on a BD-50 disc
Inconsistent black levels
Lavish colors
Adequate resolution/clarity
Occasional compression issues
Audio Highlights

DTS-HD MA 5.1 soundtrack
Solid dynamics and frequency response
Front-heavy presentation
Intelligible dialog
On its surface, the video quality is quite good and features nice detail, but if you pay careful attention to the backgrounds you'll notice some compression noise on the walls. There's nothing to complain about with the audio track and features intelligible dialog and solid dynamics.
Bonus Materials

Audio commentary with director Tom Hooper
Making of Featurette
Q&A with the director and cast
Speeches from the real King George VI
The real Lionel Logue highlights
I think this is one of the best films from 2010 and definitely is worth a look on Blu-ray, despite my minor complaints with the video quality. The performances are top-notch, especially from Firth and Rush, but it doesn't have the sizzle and intrigue I felt when seeing The Social Network for the first time.
Release Date: April 19, 2011
Studio: Anchor Bay
Movie: 9/10
Picture: 7/10
Sound: 8/10

Review System
Source
Oppo BDP-93 Blu-ray player

Display
JVC DLA-RS40 projector
Stewart FireHawk screen (76.5" wide, 16:9)
Electronics
Integra DTC-80.2 pre/pro
Anthem PVA-7 power amplifier
Belkin PVA-PF60 power conditioner
Speakers
M&K S-150s (L, C, R)
M&K SS-150s (LS, RS, SBL, SBR)
SVS PC-Ultra subwoofer
Cables
Monoprice HDMI cables (source to pre/pro)
Best Deal analog-audio cables
PureLink HDC Fiber Optic HDMI Cable System (15 meters) from pre/pro to projector

Acoustical treatments from GIK Acoustics