The Killing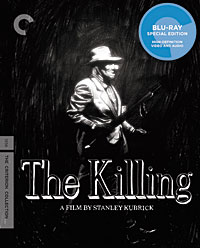 Stanley Kubrick's The Killing is a nifty film noir with brisk dialogue (by noir novelist Jim Thompson) and brushstroke characters. It features a taut narrative within a daringly fitful structure (the plot starts over and over, charting the events from different points of view, leading up to the climax) and an ending straight out of O. Henry. The story line is fairly conventional—a racetrack heist, the mastermind who devises it, and the gang of misfits who try to pull it off. But the theme—human foibles trumping the best-laid plans—anticipates many Kubrick films to come, notably Paths of Glory, Dr. Strangelove, and 2001: A Space Odyssey. This is also the first film where Kubrick, just 28 years old, displays a master director's touch: a keen visual sense, both for the composition of the frame and for the fluid camera motion (it seems to be moving almost constantly). The acting is a bit outsized, but so it is in most Kubricks, and as with most, it fits the movie's mood. This one marks his first association with Sterling Hayden, who's very fine as the methodical planner: mordantly witty, slow-burning with desire to break through life's trappings, and in the end stoic about his prospects.
Criterion's black-and-white Blu-ray transfer, mastered at 2K resolution from the original 35mm camera negative, is a vast improvement over MGM's standard-def disc of a dozen years ago. It has more detail, greater contrast, finer gray scale, and the proper aspect ratio—it's just better in every way. Much of it looks terrific. But there are also, perhaps inescapably, signs of wear and slight fuzziness. This probably looks as good as this film is ever going to look, but it's far from the level of the Blu-rays for, say, Treasure of the Sierra Madre or The Maltese Falcon. The audio, preserved in natural mono from the original 35mm magnetic soundtrack, is very clear, which is all it's meant to be.
Special features include a 68-minute film that Kubrick made right before this, in 1955, Killer's Kiss, which is interesting at best. Each shot is breathtaking. You see why Kubrick was such a highly regarded still photographer before he turned to film. The scenes of New York convey the city's mystery and loneliness in a way that few films have. But it's a silly movie with bad acting. The extras also feature entertaining interviews with Hayden, James B. Harris (Kubrick's producer), and a Thompson biographer.
Ratings
Picture: 3.5
Sound: 3
Extras: 3
Interactivity:
Specs
Studio: Criterion Collection, 1956
Aspect Ratio: 1.66:1
Audio Format: 24-bit monaural
Length: 85 mins.
MPAA Rating: NA
Director: Stanley Kubrick
Starring: Sterling Hayden, Coleen Gray, Vince Edwards