Kickstarter Campaign Aims to Fund Cassette Player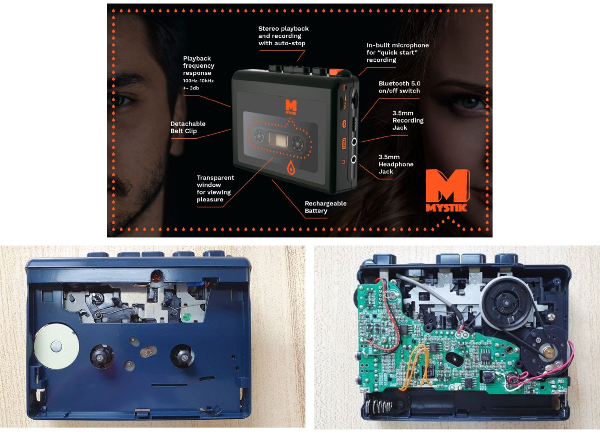 In December we wrote about
Mixxtape
, a Bluetooth-enabled digital music player from U.S.-based Mixxim that doubles as a cassette said to play in "most tape decks."
Today Paris-based Mulann SA launched a Kickstarter campaign under the brand RecordingTheMasters to fund development of a portable cassette player it calls Mystik.
This latest attempt to revive the audio cassette, which enjoyed massive popularity in the 1970s and 1980s and all but disappeared by the turn of the century, is an effort to build a "next-generation" Bluetooth-enabled device that plays and records cassettes.
Looking like it 1980s-era personal player you might find at your local flea market, Mystik is not much bigger than the cassette it plays and built around a "revamped electronic board" designed with the help of former Thomson/RCA audio engineers. The player is powered by a rechargeable battery and boasts a built-in microphone for on-they-fly recording and a 3.5mm line input for "higher fidelity recording."
Of course, there's also a headphone jack and a switch to turn its stereo Bluetooth transmitter on when you want to wirelessly stream your latest mix tape to a nearby Bluetooth speaker.
As of Monday morning, the company had already raised $23,441 of its $57,000 goal. The money will be used to perfect the prototype player shown above with the goal of bringing it to market this fall at a retail price of around $110. A limited number of early backers who pledge $93 will be among the first to receive a player and a blank 60-minute cassette — assuming the project is fully funded in the next 28 days.
RecordingTheMasters is quick to note that Eminem, Jack White, Taylor Swift, Jay-Z, Sufjan Stevens, Lana Del Rey, and other artists have recently released albums on cassette and says sales of cassettes is outpacing sales of vinyl LPs.
Mulann, a manufacturer of magnetic stripes and smart cards, started producing Fox C60 blank cassettes under its RecordingTheMasters brands in 2018 and claims to be the worldwide leader in reel-to-reel tape manufacturing. The tape used in the Fox cassettes is manufactured at Mulann's facility in Normandy, France using chemical formulas from magnetic-tape specialists AGFA and BASF.
For more information, visit kickstarter.com. Click here for more on Mulann SA and here for more on its RecordingTheMasters brand.