The Kevin Smith Collection (Blu-ray)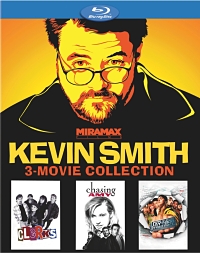 Writer/director Kevin Smith made his feature-film debut in 1994 with the cult-classic comedy
Clerks
, a hilarious story about a pair of witty counter clerks in New Jersey starring Brian O'Halloran and Jeff Anderson as the two main characters Dante and Randal. Also debuting in the film are Jay (Jason Mewes) and Silent Bob (Kevin Smith), who will show up in many more of Smith's productions.
The second film in the collection is Chasing Amy, in which Ben Affleck delivers one of his best performances as Holden, who falls in love with the most off-limits girl of his dreams—a lesbian comic-book artist named Alyssa (Joey Lauren Adams). As with Clerks, the dialog is witty and the cast has great chemistry, and Jay and Silent Bob make another appearance.
Finally, in Jay and Silent Bob Strike Back, the dynamic duo get top billing when they head for Hollywood hoping to cash in on a film adaptation based on their lives, but things don't go as planned and they decide to sabotage the production out of spite. This is not the best film of the three, but the cameo appearances are a "who's who" of Hollywood, including Ben Affleck, George Carlin, Will Ferrell, Shannon Elizabeth, Carrie Fisher, Mark Hamill, Ali Larter, Tracy Morgan, and Chris Rock.
Unfortunately, the video presentations are nothing to write home about. The extremely low-budget Clerks doesn't lend itself to a HD presentation, which Smith admits in the supplements, but it's a slight improvement over the DVD. Grain is prevalent due to the film stock, but the black-and-white image has adequate depth considering the source.
Chasing Amy improves things somewhat, although detail is lacking, especially in close-ups, and flesh tones are a bit on the waxy side while the color saturation is slightly bland and lifeless. Jay and Silent Bob Strike Back is the best-looking disc of the three, but regrettably, it's the worst movie. Colors really pop, detail is improved, and black levels are nice and inky. Each film uses a different codec, which is quite strange. The first is AVC, the second is VC-1, and the third uses MPEG-2.
Like the video, the audio improves with each film. Clerks is a dialog-heavy film and the DTS-HD MA 5.1 soundtrack is mostly intelligible. The score sounds a bit thin, although there's decent imaging across the front. Chasing Amy's DTS-HD MA 5.1 track is a slight improvement with the music having a tad more body in the midrange, but the surround speakers are virtually silent. Jay and Silent Bob Strike Back features an uncompressed PCM 5.1 track, which has much more ambience and an improved score.
Each movie sports its own supplements, with Clerks having the lion's share, including an introduction by Kevin Smith, two alternate versions of the film, and a wide assortment of featurettes. Chasing Amy has a commentary from Kevin Smith and producer Scot Mosier, some deleted scenes and outtakes, a couple of featurettes, and a Q&A session with Kevin Smith and the cast. Jay and Silent Bob Strike Back only has an audio commentary with Smith, producer/editor Scott Mosier, and star Jason Mewes.
Kevin Smith films aren't for everyone, but I've always enjoyed his work. Clerks deserves its cult following due to its witty dialog and chemistry between the two leads. Chasing Amy is probably Smith's best film to date, and it proved that Ben Affleck can act if given the proper role. As for the final film, the cynic in me says it's included in this set in order to liquidate some inventory by pairing it with the two better films, but fans won't mind its inclusion.
Release Date: November 17, 2009
Studio: Buena Vista Home Entertainment
Clerks
Movie: 7/10
Picture: 5/10
Sound: 6/10

Chasing Amy
Movie: 7/10
Picture: 6/10
Sound: 7/10

Jay and Silent Bob Strike Back
Movie: 5/10
Picture: 8/10
Sound: 8/10

Review System
Source
Oppo BDP-83

Display
JVC DLA-RS1 projector
Stewart FireHawk screen (76.5" wide, 16:9)
Electronics
Onkyo Pro PR-SC885 pre/pro
Anthem PVA-7 Amplifier
Belkin PF60 power conditioner
Speakers
M&K S-150s (L, C, R)
M&K SS-150s (LS, RS, SBL, SBR)
SVS PC-Ultra subwoofer
Cables
Monoprice HDMI cables (source to pre/pro)
Best Deal analog-audio cables
PureLink HDC Fiber Optic HDMI Cable System (15 meters) from pre/pro to projector

Acoustical treatments from GIK Acoustics
LATEST VIDEO