JVC Revisits High-End Headphones in the U.S.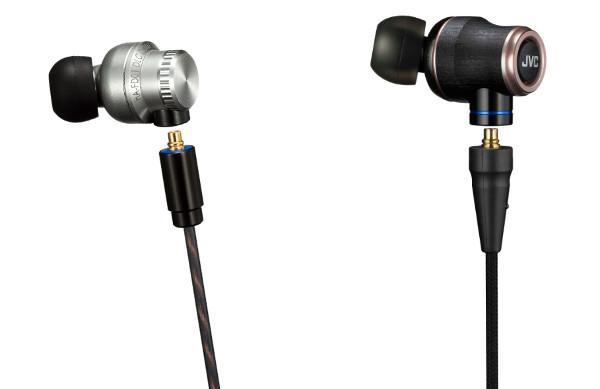 JVC is revisiting the high-end headphone category in the U.S. with two upscale in-ear models, one featuring a stainless-steel housing, the other a unique wood-cone driver and housing.
Both are said to deliver their own distinctive performance characteristics: The HA-FD01 ($300) via a "specially developed" dual-carbon driver ensconced in a metal casing and the HA-FW01 ($330) via a lightweight diaphragm made of wood and housed in a brass-lined wood casing.
The HA-FD01's 0.4-inch driver joins two layers of a high-molecular polymer with two layers of an amorphous carbon material and is capped with a polyethylene dome; layering the different materials results in detailed sound devoid of harshness and resonance, according to JVC. The earphones come with titanium, stainless steel, and brass nozzles — each with its own unique sonic signature — that can be swapped out according to user preference.
A tangle-free cable and rotating nozzles allow listeners to wrap the wires over the ear or wear them with the wires down. The earphones can be stored in a carrying case with a magnetic clasp and come with five different-size ear tips to ensure a good fit. JVC's Spiral Dot ear tip is designed to improve resolution by "using dot protrusions to diffuse unnecessary sound on the front of the unit."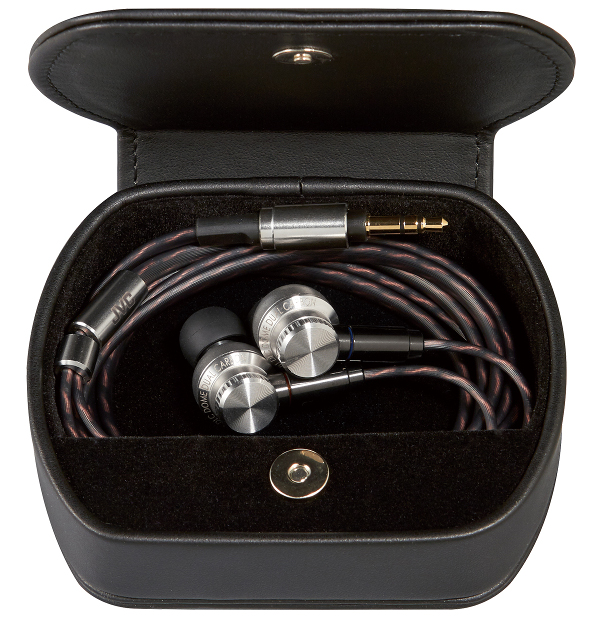 Drawing on JVC's longstanding experience with designing and building "natural sounding" wood-cone speakers, the 0.4-inch wood diaphragms in the HA-FW01 earphones' are described as 40% lighter than conventional in-ear diaphragms and excel at delivering sound that not only clear but detailed and nuanced, according to JVC.
The structure of earphones are designed to control resonance by combining different materials in a "metal harmonizer" comprising a "brass inner housing, wood housing, and wood stabilizer," while an "acoustic purifier" with small protrusions controls tone and sound dispersion to the ear. The HA-FW01 earphones are equipped with an L/R-isolated grounding cable to control crosstalk, JVC's Spiral Dot ear tips and a durable cloth-covered cable designed to minimize tangling.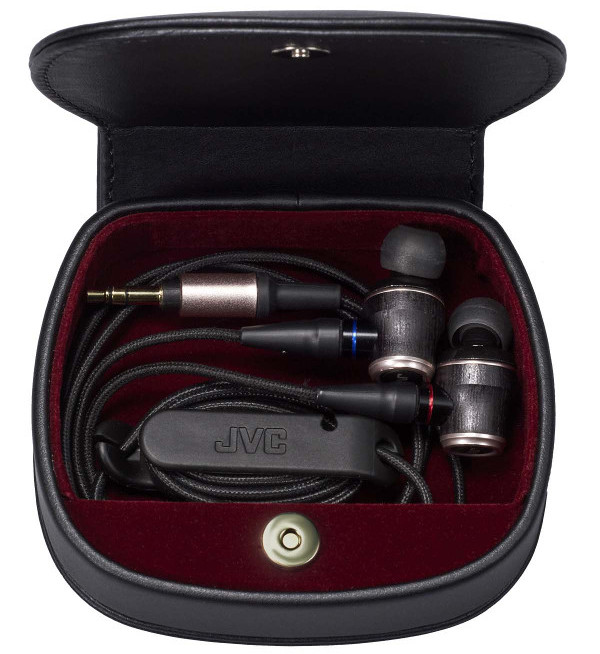 For more information, visit us.jvc.com.