JVC DLA-X790R D-ILA Projector Review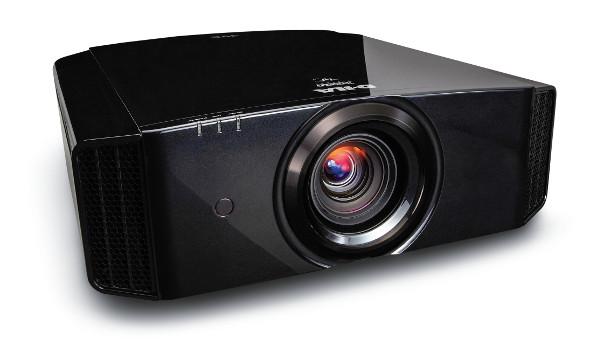 PRICE
$6,000
AT A GLANCE
Plus
Standard-setting blacks
Impressive HDR
Solid color and resolution
Minus
Complex setup menus
Some black crush
THE VERDICT
It may not have true native 4K imaging chips, but the JVC DLA-X790R shouldn't be overlooked by those upgrading a projection system or looking for their first projector. It's a knockout.
One of the key features of the Ultra HD format is 4K resolution. But to date, the catalog of true native 4K home theater projectors — those with imaging chips featuring a minimum of 3840 x 2160 pixels without relying on any pixel-shifting tricks — is pretty thin. JVC has the laser-lit DLA-RS4500K at $35,000, and Sony has its own premium models above $10,000. But if you're looking for something priced more affordably, you're currently limited to Sony's new VPL-VW285ES ($5,000) and VPL-VW385ES ($8,000).
Beyond this, if you want a UHD-friendly projector you're looking at so-called "pixel-shifters," which flash up successive frames of video from lesser-resolution imaging devices in an effort to achieve higher subjective resolutions. A handful of projectors now use DLP's latest 4K chip, which delivers all the signal information in a full UHD signal to the screen in two half-frames. We've tested two models to date with this chip, including the budget-priced Optoma UHD65, but neither delivered recommendable contrast performance.
JVC's projector offerings in the lower price range also use pixel shifting, which the company refers to as its e-shift technology. JVC's system, first used some years ago and now on its fifth generation as e-shift5, uses three 1080p-resolution D-ILA LCOS imaging devices to bring resolution up to something beyond full HD but not quite to full 4K. An e-shift projector starts by processing the 8+ million pixels in a 4K source down to 4 million. Half of these are displayed first on the projector's 1920 x 1080 imaging chips. The remaining half are then shifted diagonally by less than a pixel and displayed a fraction of a second later — so fast that the eye blends the two blocks together and perceives the result as greater than the projector's native 1920 x 1080 resolution. Among the most notable improvements over the last-generation e-shift, JVC says, is that the system now analyzes all of the pixels in the original 4K source before processing down to the critical 4 million pixels for each frame, allowing it to retain improved sharpness and detail. The e-shift feature is on by default with any 4K input, but can be turned off for inputs of 1080p or less.
Our subject here is the middle sibling in the JVC Procision line's new three-model range for 2018: the DLA-X790R, which sells for $6,000 and is also available as the DLA-RS540. Above it is the DLA-X990R, which at $8,000, offers marginally improved brightness and contrast ratio specs versus the X-790's rated 1,900 lumens and 130,000:1. The step down DLA-X590R, at $4,000, offers 1,800 lumens and a rated contrast ratio of 40,000:1. Duplicate models are offered in the firm's professional Reference line series, and a seventh 2018 model, a limited edition high-end projector in a red cabinet, serves to honor the 20th anniversary of the company's D-ILA technology.
Features
The DLA-X790R may not have true 4K imagers, but native resolution isn't everything. Instead, this model offers more features — and perhaps better performance in areas beyond resolution — than it otherwise might if it had to absorb the cost of true 4K chips at a similar price. Its feature set is long indeed, even a bit overwhelming.
To begin, the projector supports both the HDR10 and HLG (Hybrid Log-Gamma) versions of high dynamic range (HDR), though not Dolby Vision (we know of no home projectors to date that support the latter). Its two HDMI inputs are HDCP 2.2 compliant and can accept a full 18-gigabit-per-second bandwidth. That means that it can do Ultra HD 4K sources at 60 hertz in HDR and 10 bits — though such material remains rare, there are murmurings from some Hollywood creatives that more will be coming. The RS-232 and LAN inputs are designed for wired control of the projector, not for video sources. But the projector's wireless remote control is comfortably sized, well organized, and backlit.
The 265-watt lamp is rated for a life of 4,500 hours (in Low mode) or 3,500 hours (High mode). I suspect you'll feel the need for a replacement sooner than that, particularly if you watch a lot of HDR material. The cooling fan is barely audible in Low mode. In High (definitely recommended for HDR), you'll hear it in a quiet room, but I didn't find it obtrusive, particularly with audio playing. There's also an Eco selection in the menu, but it has nothing to do with the lamp or the in-use power consumption. When engaged, it shuts off the projector after 20 minutes of detecting no source signal.
Regardless of lamp brightness, no projector can equal the peak HDR levels achieved by an HDTV. But even a small increase in peak luminance is welcome for those HDR highlights. This projector's previously mentioned 1,900 lumens is said to represent a 10 percent increase over that of last year's similar model. But lumen ratings should always be taken lightly, and they should never be compared between manufacturers (who will very likely rely on different measurement techniques).
The lens is fully powered for zoom, shift, and focus, with lens memories for saving multiple settings. You can select one of two auto iris modes to improve black level and contrast beyond the chip's native capabilities, or you can choose a manual iris setting. There's also a powered lens cover, as well as two anamorphic stretch settings (vertical or horizontal) for users who have an outboard anamorphic lens.
Last but not least, 3D fans will appreciate that the latest JVC projectors still do 3D. But neither the external 3D sync emitter or 3D glasses are included with the projector.
Controls and Setup


The DLA-X790R is both THX certified and ISF licensed. There's a dedicated THX Picture Mode for HD/SDR (standard dynamic range) sources, and one or more of the Custom Picture Modes can be converted into calibrated ISF modes and locked.
The controls are extensive and a bit intimidating, even for an old pro like me. While the basic picture menu looks simple enough, each selection has submenus that ratchet up the options. There are nine Picture modes, including the five User modes and one HDR mode. Each Picture mode offers a range of Color Profiles. If you tally each User mode and its own selectable settings, there are, by my count, 102 different combinations of Picture modes and Color Profiles.
Fortunately, it's safe to ignore most of them, particularly if you choose to give the projector a professional calibration. I settled on two options for SDR (THX and Cinema) and one for HDR (simply labeled HDR). Many of the others are clearly for pro applications — and without calibration, they produced pictures on consumer content sources that ranged from so-so to Looney Tunes.
The JVC offers a full color management system (CMS), along with gain and offset controls for white balance. The Gain and Offset settings are universal across all SDR modes; you can't, for example, use different Gain and Offset settings for THX and Cinema. But you can use different settings between SDR and HDR modes.
There are convergence adjustments (overall and zone) to fine-tune the alignment of the red and blue images with the green. But our sample was well aligned out of the box, so I never needed them. Another option I didn't use was C.M.D. (Clear Motion Drive), a motion-smoothing feature in the Blur Reduction menu.
A Low Latency selection, intended primarily for gaming, ended up having more than the obvious use for me. I was having difficulty getting good lip sync with any of the audio delay settings offered on my Oppo UDP-203 Ultra HD Blu-ray player. Turning on Low Latency cured this, though it defeated the Clear Motion Drive. (No loss there for me, given my incurable Soap Opera Derangement Syndrome.) According to JVC, the Low Latency mode has no effect on the quality of the picture (color, resolution, etc.), and I neither saw nor measured any.