Judas and the Black Messiah
The disc's excellent image contrast brings out the deep blacks of leather coats, sunglasses, and berets. Some tender romance scenes have a soft focus, with hazy, burnt-out pastels. Other gritty ones that take place in tenements have a crisp look, fleshing out textures in cracked walls, peeling paint, and pitted floorboards. Night scenes are filled with detail, showing the shine on classic cars and the reflection of neon lights on glass.
Judas's sensational soundtrack features clear channel separation. Bridging and action scenes showcase soul and jazz bands of the period, including The Jhamels, The Impressions, and Roland Kirk, all of it sounding terrific in surround. The soundstage at times is incredibly wide, with violins seemingly coming from an adjoining room. Dialogue—especially the all-important speeches—is clear and full. Environments are rendered in a realistic manner in a sequence inside a car during a storm and another that immerses you in a meeting packed with a chanting crowd. Shotguns roar and bullets rattle around your head in a gun battle with cops inside Panthers HQ in a scene that ends, of course, with a booming explosion.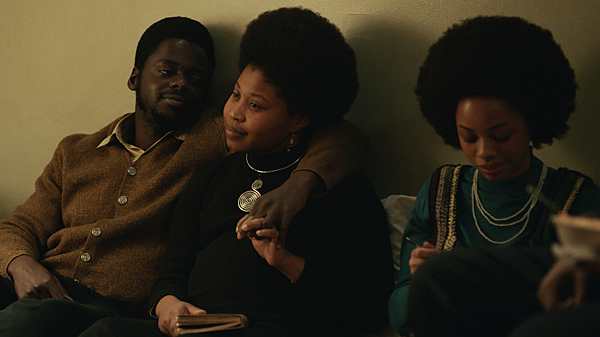 Extras consist of just two featurettes, one on Hampton's legacy and the other on O'Neal, but both are involving. In the words of Hampton, "Anywhere there's people, there's power."
BLU-RAY
STUDIO: Warner, 2021
ASPECT RATIO: 2.39:1
AUDIO FORMAT: DTS-HD Master Audio 5.1
LENGTH: 126 mins.
DIRECTOR: Shaka King
STARRING: Daniel Kaluuya, Lakeith Stanfield, Jesse Plemons, Dominique Fishback, Ashton Sanders, Algee Smith, Martin Sheen
The messiah here is Fred Hampton, chairman of the Illinois chapter of the Black Panther Party (BPP), preaching and gathering disciples to join him in his efforts to help feed and free the people. Judas is Bill O'Neal, the follower who's secretly working for the oppressive force—the Chicago PD and the FBI circa 1968, who see the BPP as more of a threat than the Russians or the Chinese. Although the story is told from the perspective of the unsophisticated petty car thief O'Neal (facing a six-and-a-half-year sentence unless he goes undercover for the feds) the heart of the film is charismatic leader Hampton, AKA Chairman Fred. He's a brilliant, highly educated, and eloquent orator able to fire up audiences with his powerful expression of ideas. But he also wins them over with his kind heart and good works. To the feds, Chairman Fred is dangerous because he can raise the consciousness of and unite not just blacks, but previously hostile street gangs, Hispanics, and even white Southerners all in one Rainbow Coalition.